Fine dining restaurants tend to trigger in me (and my guess would be, in many others as well) uncomfortable associations with giant white plates smeared with some kind of unrecognizable sauce and questionable clouds of foam, that look like they landed there straight out of the dishwasher machine, while the star of the dish ( as in-the food itself and the reason we're all gathered here) is playing MIA.
I'm not entirely sure where is this association coming from, but my guess would be that it's the product of way too many restaurants that pretend to be something they are not, and chefs that forgot about the fact that people are also meant to eat the food they're serving, and not just take photos of it for social media.
Of course, if you also add to it a smidge of the love-hate relationship that some Israelis have with any type of leisure that seems to be more popular in Europe, and we could get a possible clue as to why restaurants from this genre encounter somewhat of lukewarm reception around here.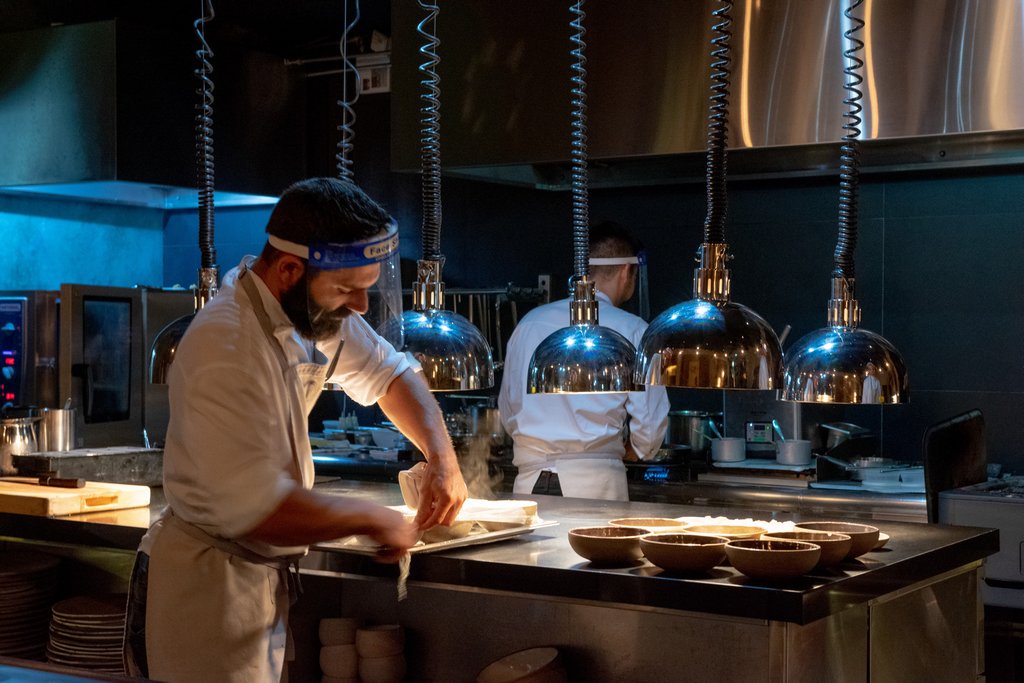 Despite the concerns that I had due to the associations mentioned above, I wanted to visit the "OCD" from the moment I first heard about it.
I was curious: a 24-year-old that opens a restaurant in a style that is so rare around here is not something you hear of every day. It takes b**ls and courage, and courage is a good place to start if you want to create something new. Me? I love new! New is exciting!
The reviews, even if not all of them, painted a picture of a restaurant brimming with potential and a chef (Raz Rahav) with a creative impulse, who strives to create complex dishes that tell a story and take you on a little adventure with every bite.
Well… Sign me up! I volunteer as a tribute!
In my opinion, good food is ultimately one that delivers the flavor profile it promised to provide, whether it's falafel from a stand, or strawberries in 5 preparation technics at a high-end restaurant.
The way I see it, the expectation of the person sitting at the table is always the same: for the flavors of the dish to be pronounced yet complementary of each other, and for the food to be fresh and tasty in general.
However, to me, outstanding food is the kind that manages to surprise me with the flavor combinations and textures it provides. Food that's innovative and maybe even, dare I say, groundbreaking.
In a nutshell – food that'll make my tastebuds ask me wtf did I just feed them, in the best way possible.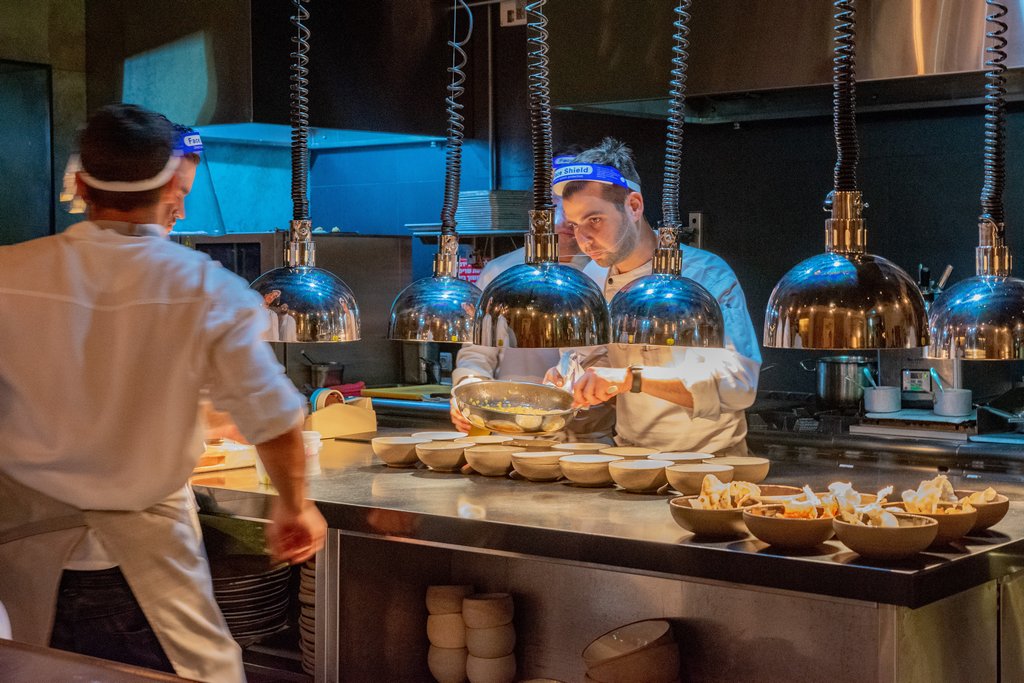 And so it was, after more than a few rainchecks and in between two Coronavirus lockdowns, I finally managed to make a dream come true and cash in on a birthday gift by sitting my sweet ass on one of the 18 bar stools that surround the restaurant's open kitchen, to figure out once and for all if the food there goes up on one scale with my definition of "outstanding".
The technicalities:
Dinners at the restaurant are conducted in two rounds per evening.
Each round begins at its designated time when all present diners are seated. Everyone is served their dish at the same time and the restaurant's website cites that: "A diner who is late by 25 minutes or more will join the meal from the stage it is at when they arrive".
We arrived a bit early and used the time at hand to freshen up and dwell on the wine menu, but you should know that even though the dishes may be served to everyone simultaneously, it's not a military parade choreography type of a thing, so there's room for flexibility and even if you do find yourselves a few minutes late, your experience won't be affected.
With this in mind, if you are indeed late, please be sure to notify the restaurant so that they could adjust accordingly.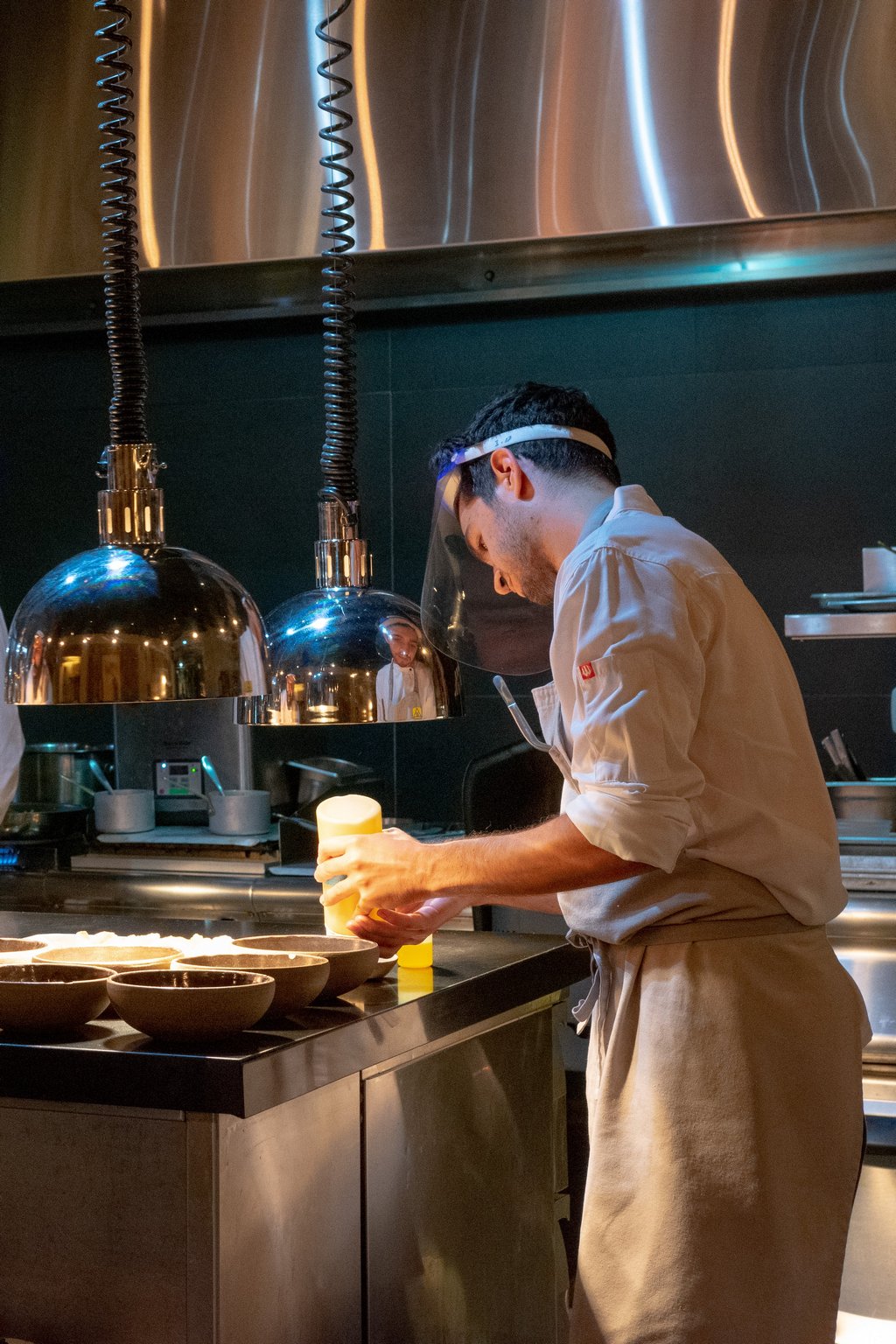 The dinner itself consists of a tasting menu that changes in accordance with the seasons, the produce that's available at the local markets, and the chef's mood.
The dishes are set and there's no option of making last-minute requests. In fact, the only thing you do get to pick out is the type of meal you want (you get to choose between several options such as regular, vegetarian, vegan, etc.).
Bottom line is, the experience is curated towards those who are open to the idea of trying new flavor combinations and textures. If you know yourselves to be very picky eaters that're set in their food preferences, and you have a lot of demands as to what kind of ingredients can and can't find themselves on your plate,
it could be that it's best for you to sit this one out.
In regards to people with allergies / medical conditions that require a special diet, it's important that you mention your condition when you book your table.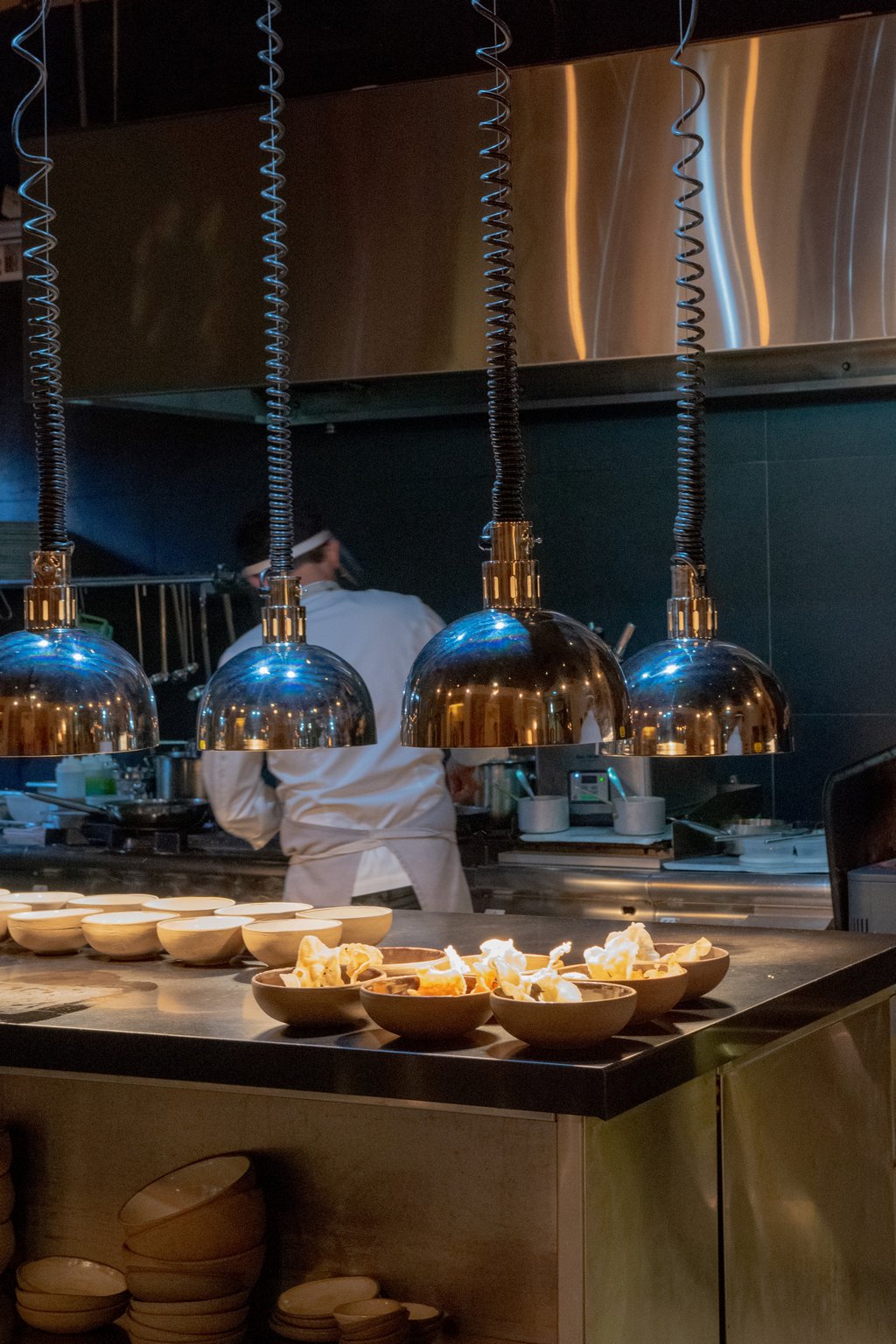 In addition, it's important that I mention that even though every dish is quite small on its own, this is in fact, a case of "the whole is greater than the sum of its parts" type of thing, and this is an incredibly filling meal. Please show up on empty stomach – it can be incredibly disappointing getting to the dessert section of the evening and figuring out that taking one more bite will make you burst.
The nitty-gritty:
* Booking in advance is a must (and the sooner the better, as there can be quite a waiting period)
*The restaurant is not kosher but there's an option for an adapted menu.
*390 ILS pp. , sparkling/mineral water is included, Alcoholic beverages are not. (as of the date of this post)
*You can bring your own bottle of wine if it's not on their menu and pay a corkage fee.
*There are parking lots in the restaurant's vicinity where you can park your car.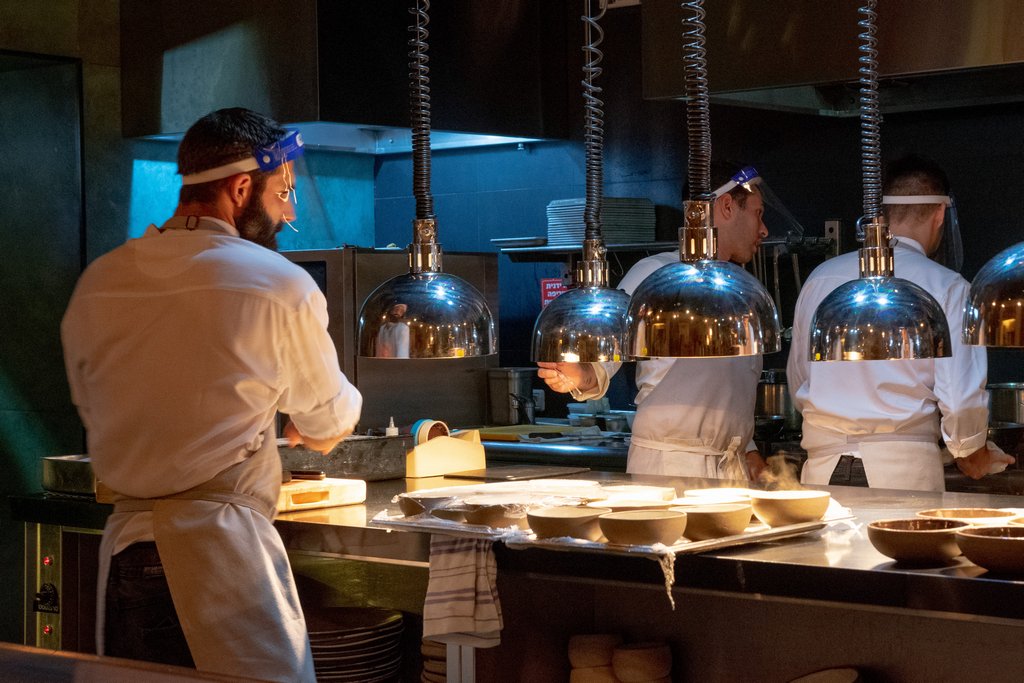 The experience:
The hostess greets us with a kind smile on her face and leads us to our stools at the bar, we get comfy, order our drinks, and the dishes start to slowly flow to our table.
Each dish comes with a general explanation about the preparation process and the ingredients used in it.
The explanations are always straightforward and without even so much as a hint of condescension. When we ask something we're always answered patiently.
Oh, and don't be too disappointed if you receive an explanation about a dish and forget it the second they finish giving it to you. For those of you that don't have a background/interest in the subject, it can be the first time you hear a lot of these terms and ingredients, and it's totally fine. I know it happened to me more than once throughout dinner and I consider myself a "Foodie". So you're good.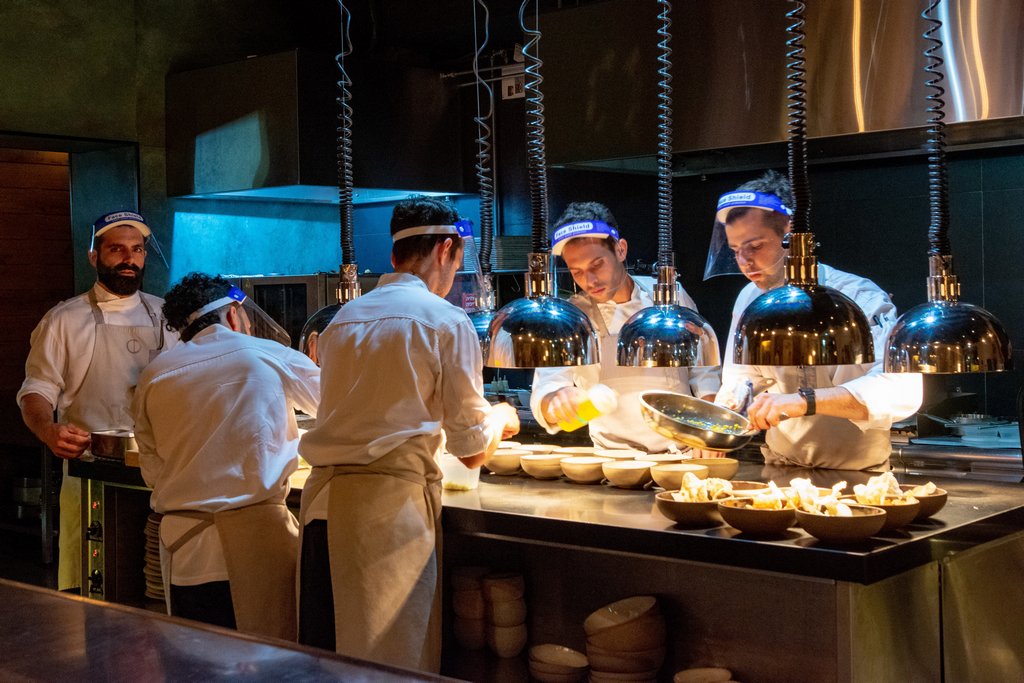 Les dishes:
The dish to kickstart our evening was a small bowl of marshmallow fluff made out of a desert plant named "Saltbush" ( the ingredients you've never heard of before? Here's one of them), topped with lime granite and teeny-tiny melon cubes. On paper, it doesn't sound like something that should work, but it did, and the gentle saltiness of the plant together with the tartness from the granite and the sweetness of the melon cubes all combined into a perfect harmonious symbiosis. A complex dish that gave us some insight into what's coming up next.
Immediately after that, we were served a dried beetroot tartlet with ricotta- raspberry- lemongrass filling.
This was probably my least favorite dish throughout dinner, as the flavor combinations were nice but not thrilling, and something about the bottom's crunchy texture just didn't work for me. Alas.
From here on we're only going back up.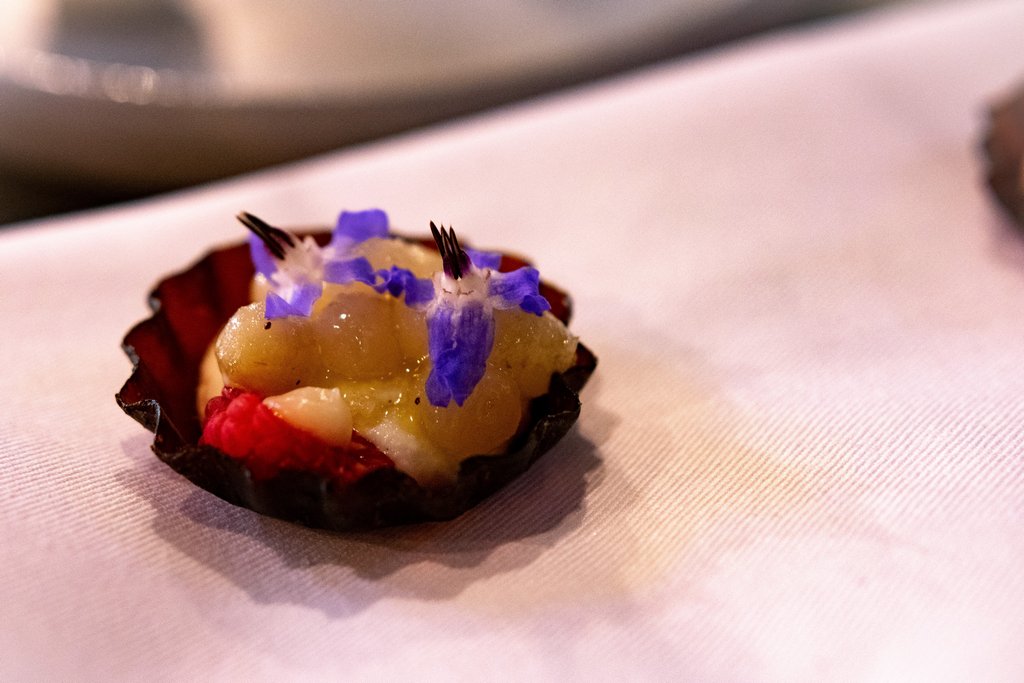 The next dish to come out to the table was two halves of meringue made out of dehydrated Labneh (a type of yogurt) in between of which was awaiting burnt aubergine cream. The meringue was delicate, a tad sour and dense, yet light and airy at the same time, and that's exactly what the concentrated and smokey aubergine cream needed to balance it out.
Usually, I'm not really into aubergines, but this time I wouldn't have minded getting a bunch of those bite-sized meringues for takeout. Although, the same can be said for most of the dishes we were served.
Following up we have the Ceviche: pink trout that was lightly cured in salted nectarines and topped with mustardy mizuna leaves ( another esoteric ingredient) and baby cucumber. The fruity notes of the nectarine complemented the fish and created a fresh and light dish.
Next, we received two classics from the Israeli cuisine: Yaprak ( stuffed grape leaves) and Kugel ( baked potato casserole). Of course, in this case, the two came in a much more sophisticated version than any of us can make at home: the Yaprak was actually a grape leather stuffed with rice, some kind of lemony cream, grey mullet, and mulberry leaves, while the Kugel was a steamed then baked potato noodle with caramelized shallot and fermented dilly beans cream. Like I said, utterly unrecreatable.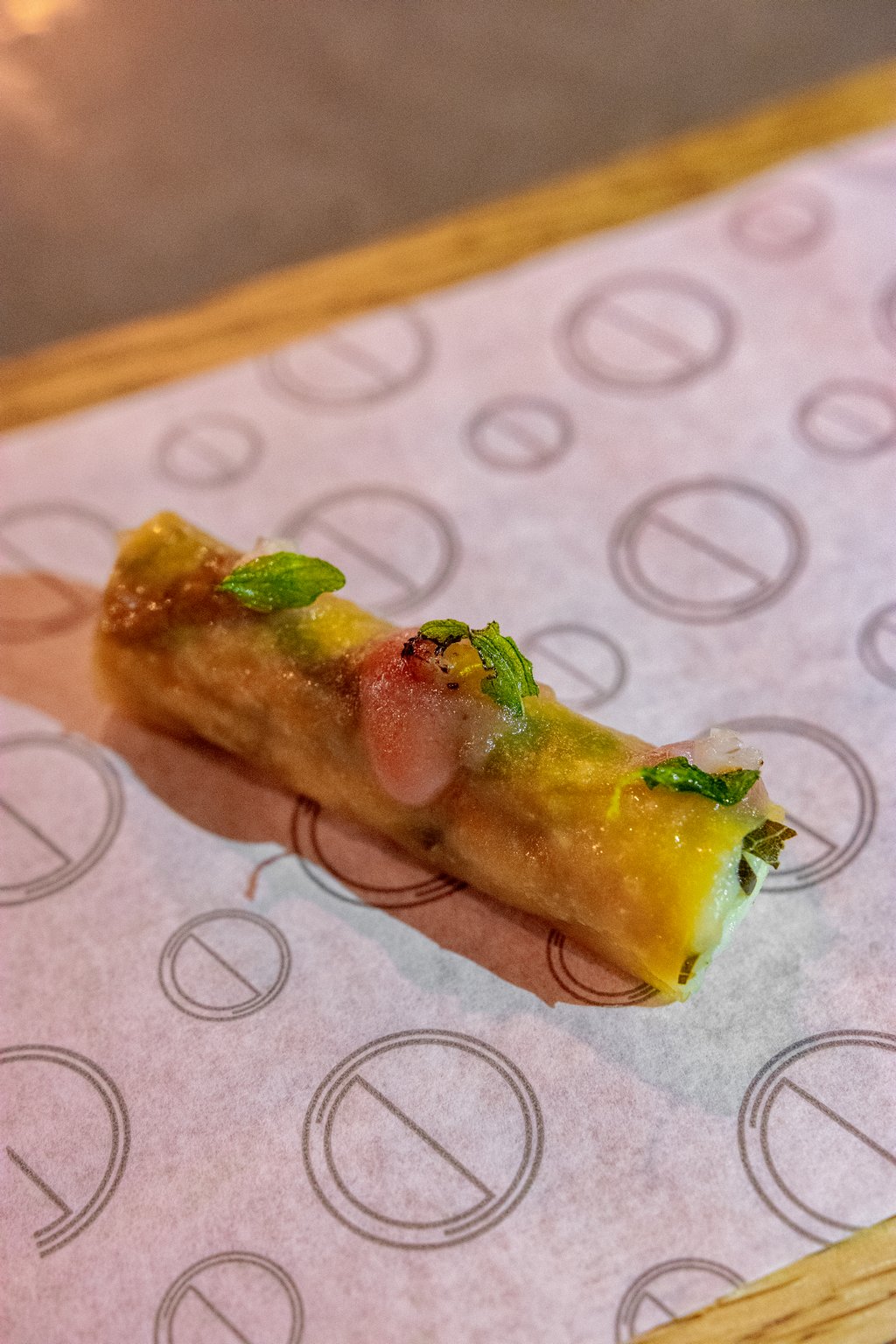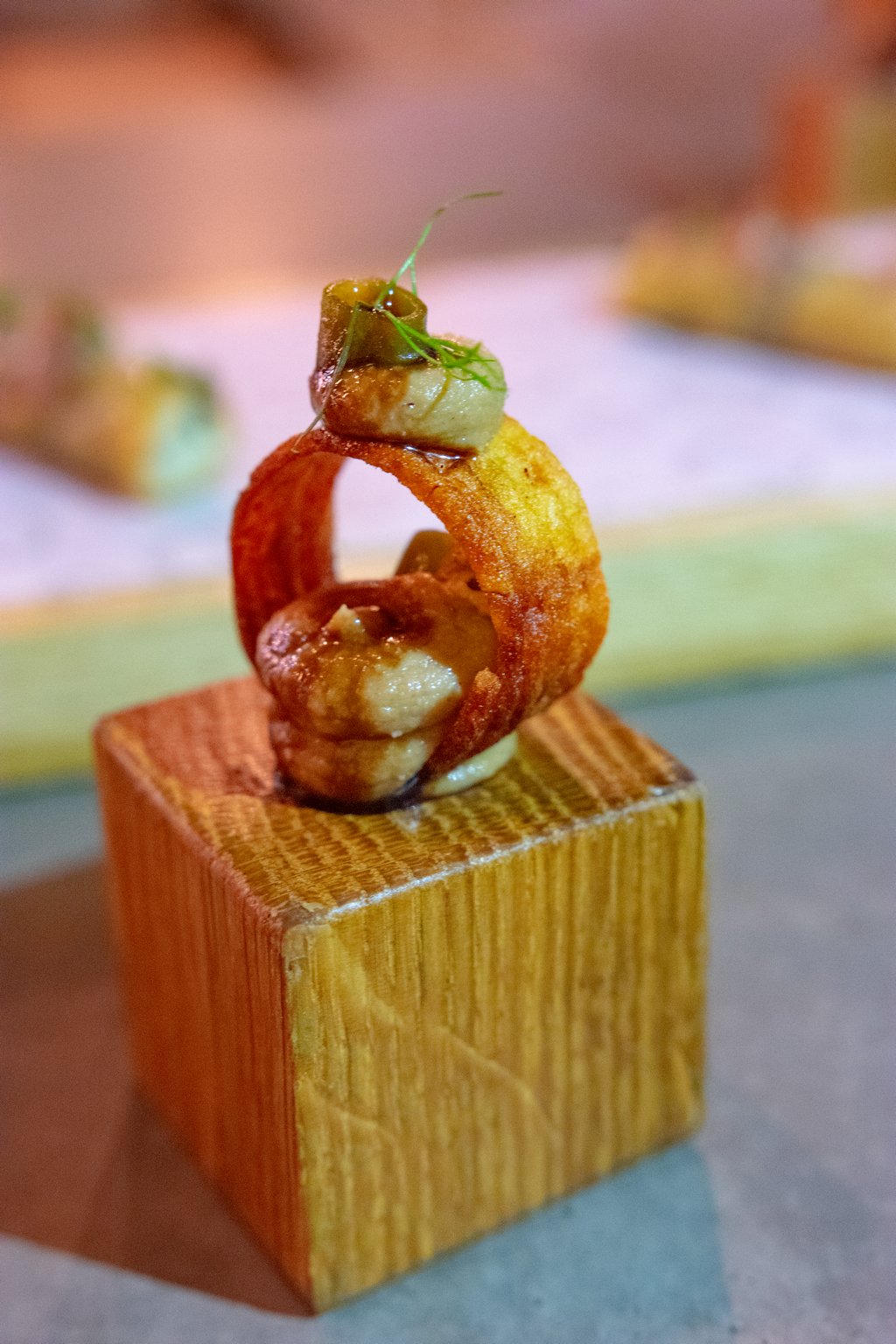 Still with me? Let's continue.
The next dish to appear at the table was green buckwheat pancake that reminded me a bit of Injera or Lachuch bread because of its spongy texture and was full of deep earthy flavors that only buckwheat can add to a dish.
On top of the pancake itself were a burnt zucchini with zucchini cream, mizuna leaves (yes, more of those),
and monks cress aioli, which I personally think they should bottle up and sell to the masses as a souvenir to take home.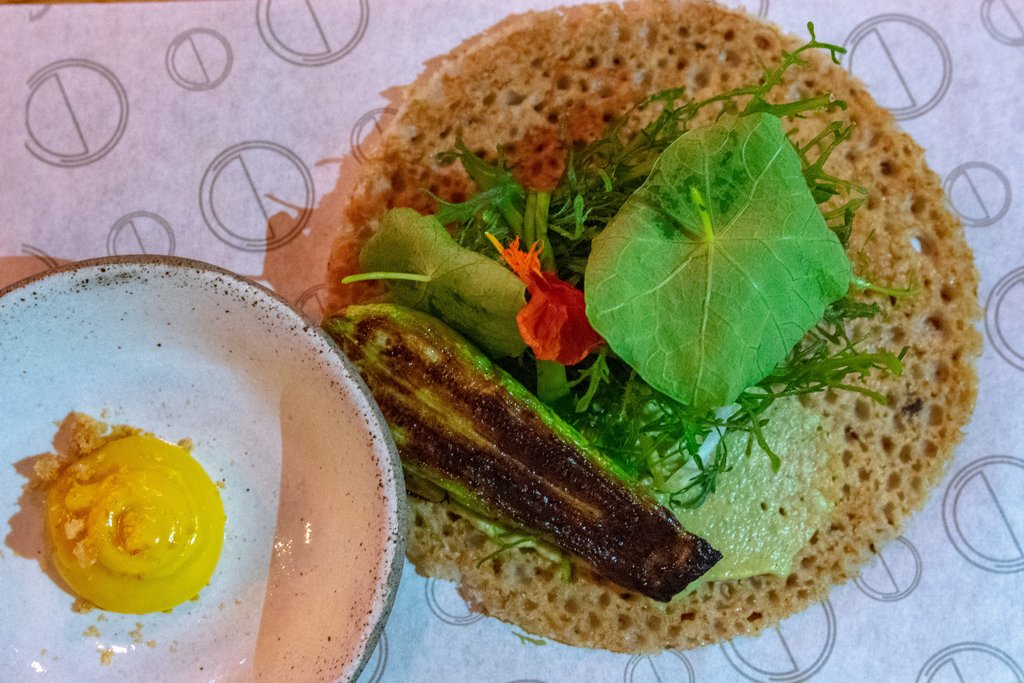 As a palate cleanser and a sign that we are moving on to the hot dishes section of the evening, we were served a piece of freshly baked sourdough bread with a spread that I genuinely can't remember what it was, partially because I was busy marveling at the wonderful carb that was placed in front of me.
I'll admit it, I have a problem, I have a weakness and an extremely soft spot for good bread with a hard crust and soft and mushy insides, so I suppose I could see myself lucky that we were served only one slice per person, as I would have probably stuffed myself with it if we were to be served more than that.
The first hot dish we were served blew me away with how good it was. Chawanmushi, an appetizer dish that originated in Japan, is a type of steamed savory egg custard, and exactly what was sitting in the bowl in front of me, except this one had corn in it.
Now, the people who are close to me know that I have an issue with gelatinous textures in savory foods due to a childhood incident that revolved around a portion of P'tcha and me categorically refusing to eat it ( thanks mom! Thanks grandma!), so this one had me pretty nervous. Luckily, all it took was one bite, and every worry I had melted away. The OCD kitchen staff? They know what they're doing. In fact they're so sure of themselves that they're brave enough to challenge their very Israeli customers with a dish such as this one.
In the restaurant's version, the mildly sweet corn combined well with the red pepper x.o sauce that gave it a kick of umami, and the corn puffs that accompanied the dish together with aioli Kimchi ( fermented pickles from the Korean cuisine) added a pleasant spicy ting.
Not only did the dish surpassed any expectation that I could have possibly had, but it easily became my favorite out of all of them.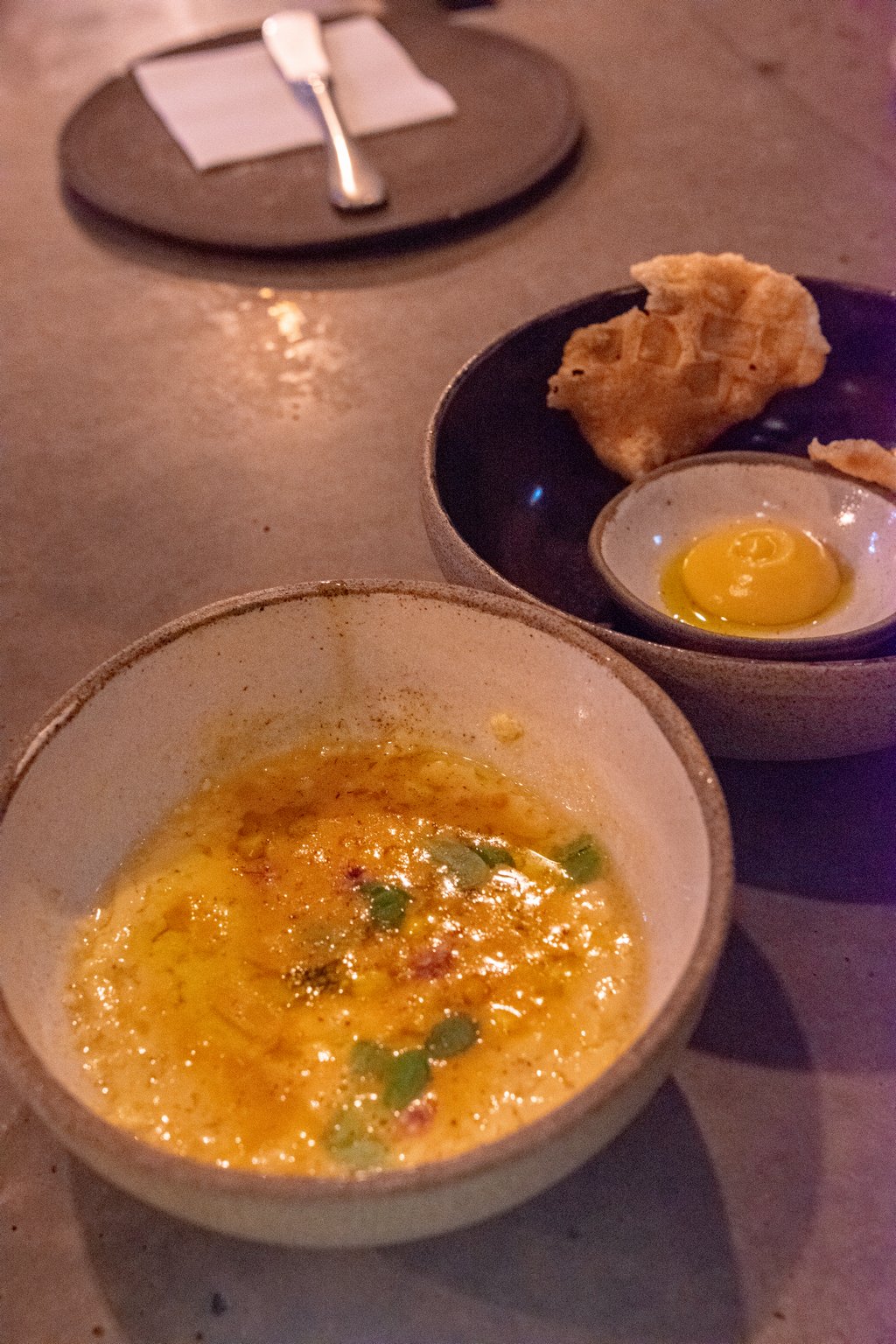 The second hot dish to appear in front of us was locally sourced duck's breast that was aged for 14 days, smeared with cherry glaze, cooked, and now was wading in a puddle of a thick sweet & sour sauce, that somewhat reminded me of the ones that are popular in French cuisine.
The meat turned out tender and juicy and the plum sauce balanced out its naturally salty flavors.
The dish was accompanied by chickpea prepared in 3 different techniques, something that I personally didn't see how it was tying up with the rest of it, but it definitely didn't contradict the fact that it was 100% tasty.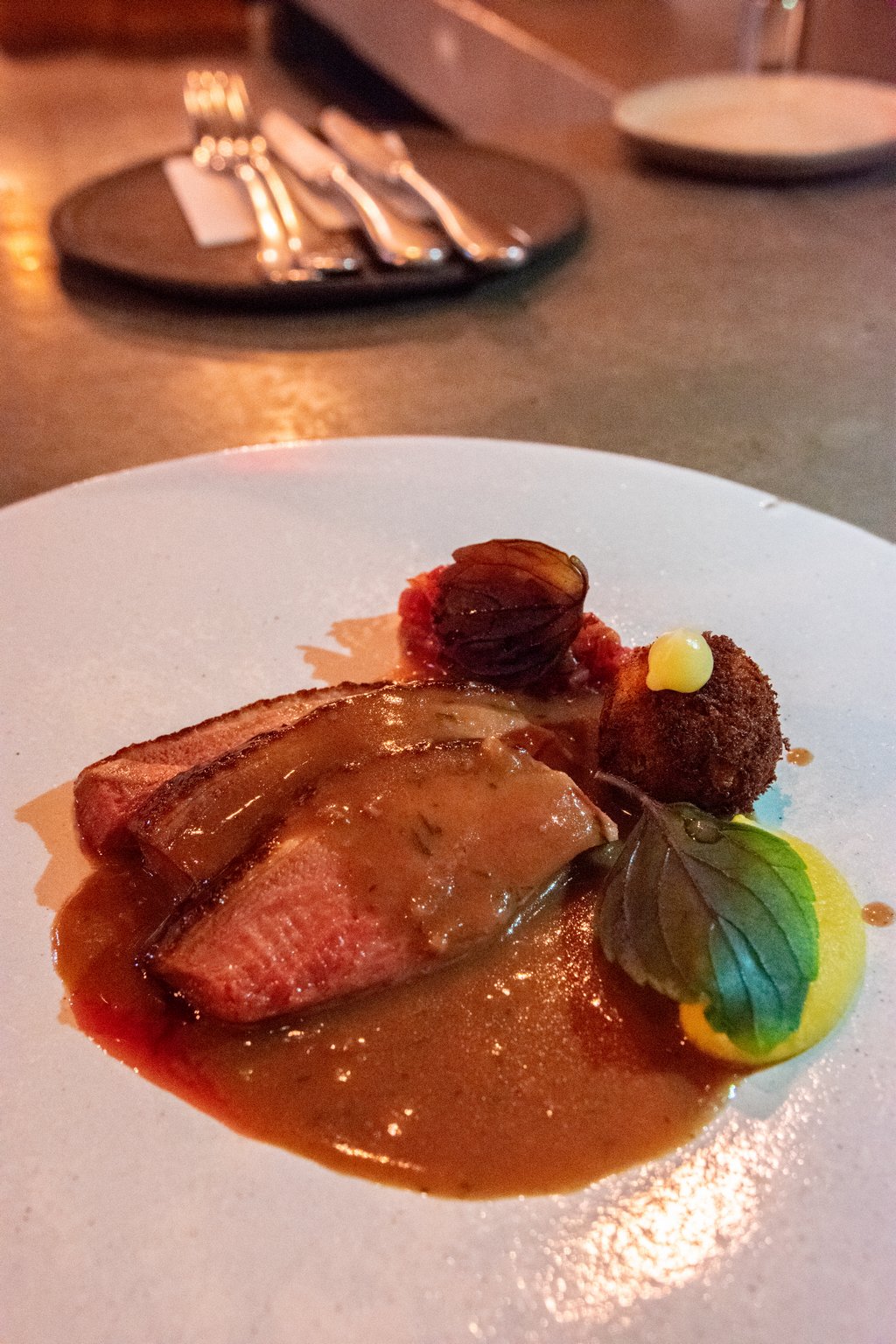 The last hot dish we received was a flat iron steak– a beef cut that comes from the shoulder.
As with the previous dish, the meat received a gentle and dedicated treatment at the hands of the kitchen staff and was made to perfection: pink, tender and chewy, but not in chewing gum kind of way.
The cut came with a pickled lemon-yogurt sauce, a combo that gave a kick of freshness and zestiness to a dish that otherwise could have been considered "vanilla" in another restaurant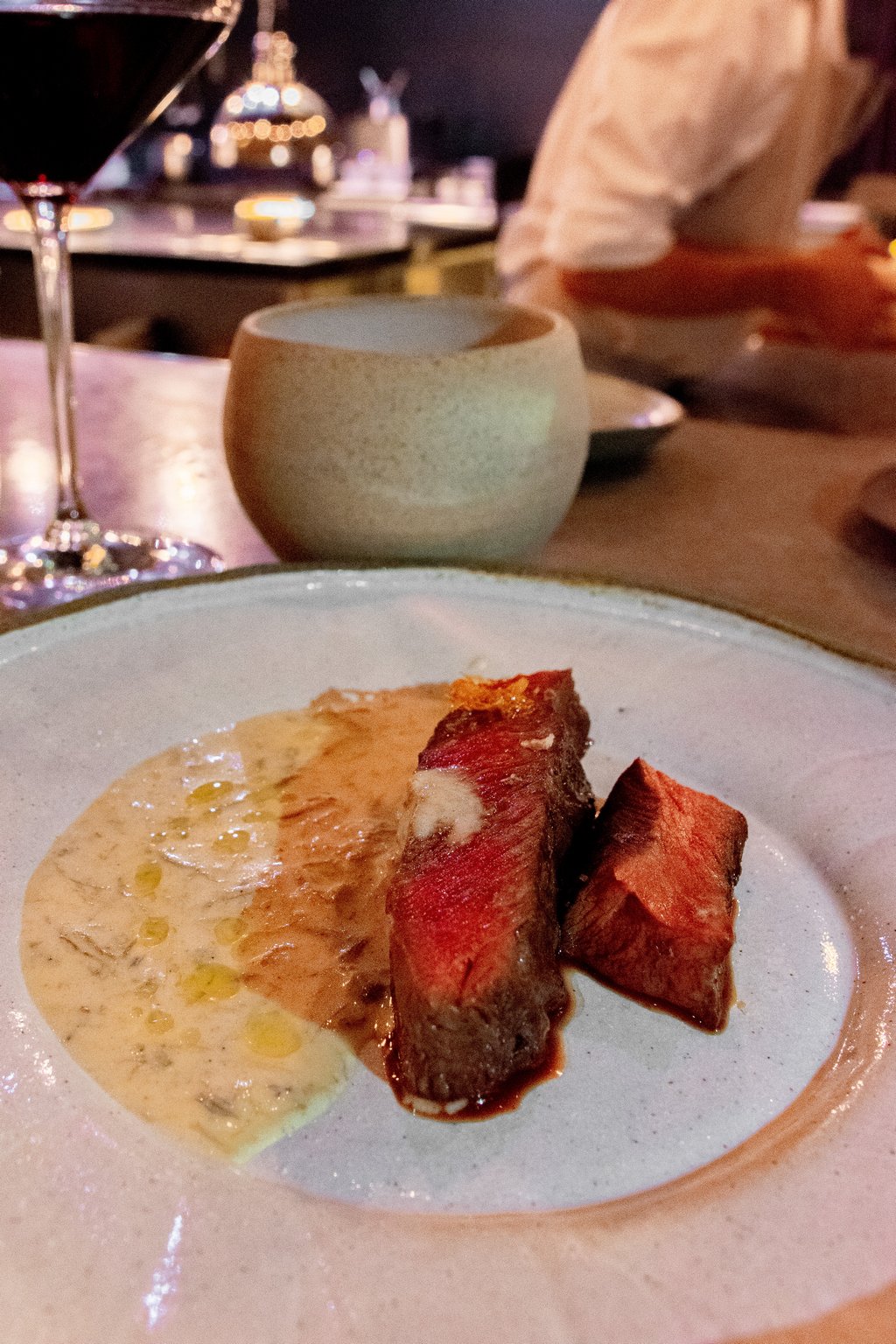 Just before we moved on to desserts we received another palate cleanser: Freekeh ( smoked green wheat) with unripe mango.
The first dessert we had was a surprising little flavor bomb, and honestly? I didn't want it to end.
Inside the small bowl, lying over a bed of wheat pudding, were rose-lime cream and pecan ice cream.
The delicate floral notes of the cream, together with the nutty sweetness of the ice cream and relative neutrality of the pudding created a balanced dish, full of original complementary flavors that were practically begging us to take another bite. This writer is considering taking herself for a second date at the restaurant in hopes of trying again the little bowl of pure joy.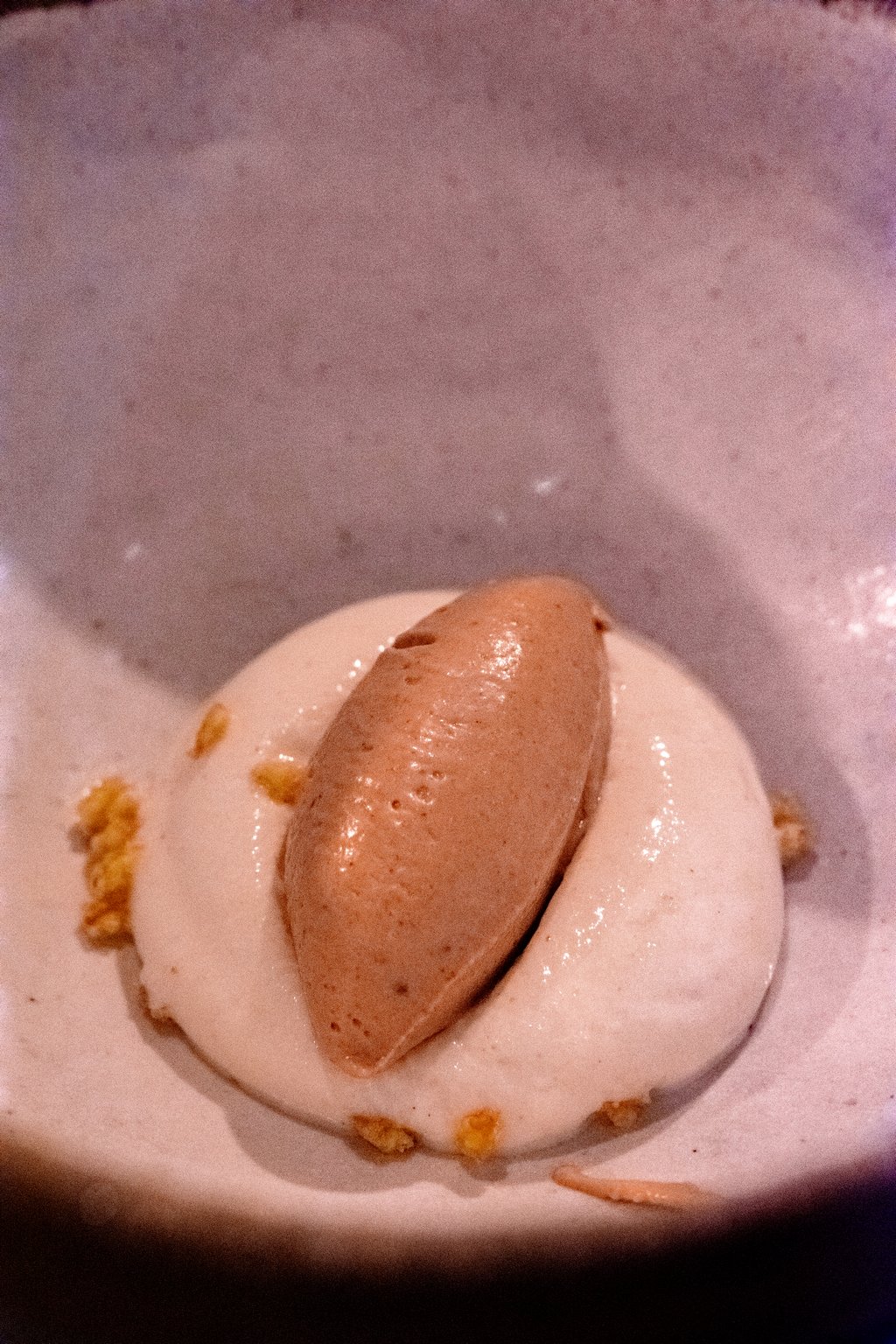 At this point in the evening, I was feeling pretty full and was actively regretting not wearing a dress, since the jeans that I did wear were not allowing my stomach to realize its full capacity.
Therefore, it seems that our second dessert had the most perfectly orchestrated timing: the aerated labneh parfait with a surprise of grapes, basil and ginger under it came just at the right time.
It was as light as a cloud and had I not been as full as I was, I would've probably regretted how fast it was gone. The sweet & sour parfait melted on my tongue like it was made out of air and had me (and the rest of the diners) immediately going for another bite just to make sure that what I was tasting wasn't the fruit of my fevered-due-to-overindulging-in-food imagination.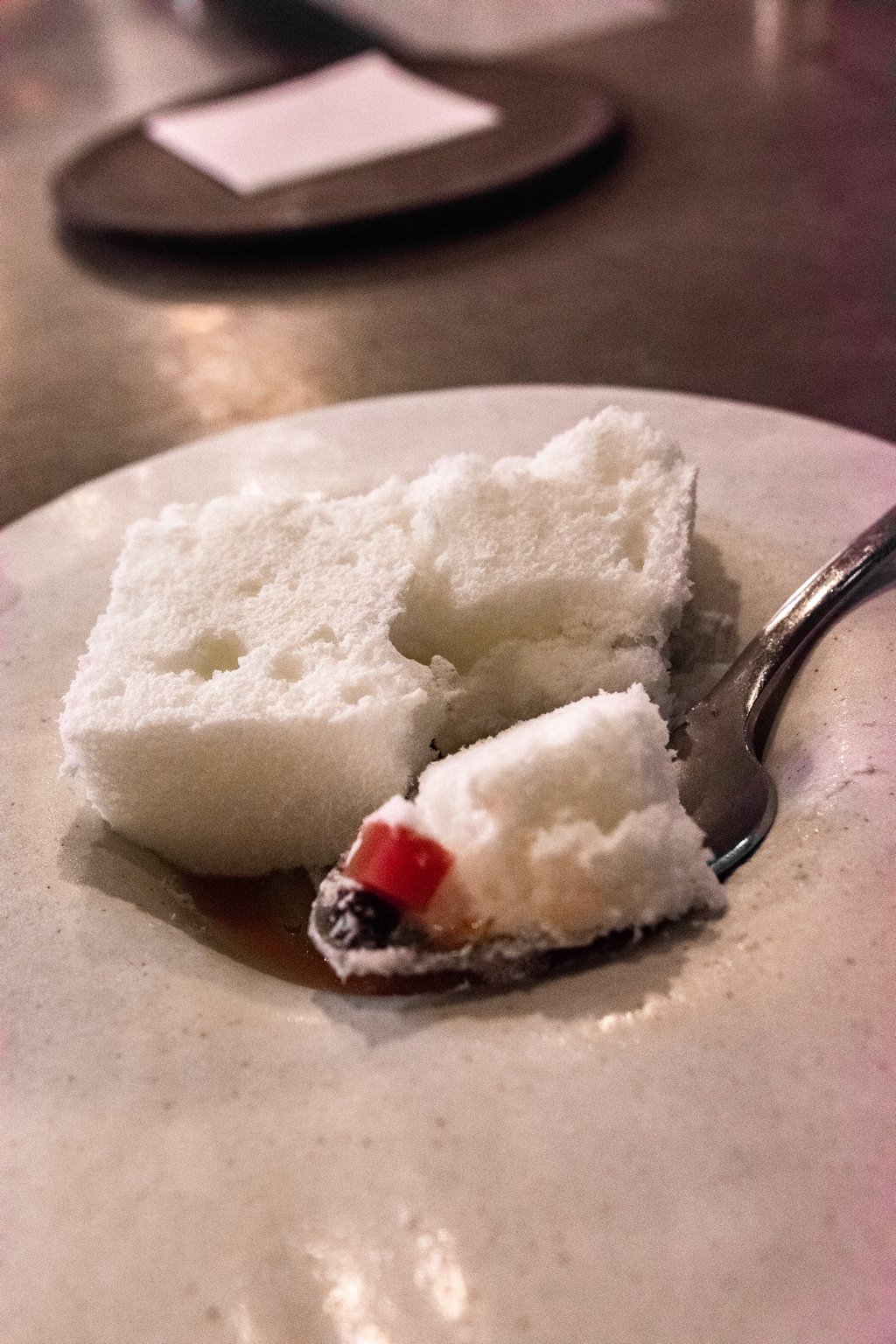 Finally, For the big finale, we received 4 mignardise (tiny patisseries) which were: a mini lemon tart, chocolate & pine nuts dessert, a caramel-popcorn cream puff, and a tiny roll that it completely escaped my mind what it was. Everything was ridiculously tasty.
Final thoughts:
I didn't have the opportunity to visit many high-end restaurants, partially because of what I mentioned at the beginning of this post, and partially because in a way, going out for a dining experience like this one is a bit of a hustle: you'll need to book a table in advance, take out time in your schedule and a considerable amount of money out of your pocket, and some will say that you need a so-called "excuse" like a special occasion that'll justify the whole shabang, especially in light of the latest events.
Personally, I think that the experience at the OCD is definitely worth it, especially if you are looking to try out something new and maybe even challenge your tastebuds.
If the place is any indication as to what you can expect out of high-end restaurants I think I'll try visiting those a little bit more often. Well, at least this one.
To the question "Is the food at the OCD outstanding?" the simple answer is "yes!", and if we want to expand on that a little bit then: the food may not be perfect but it's intriguing, innovative, surprising, and above all, it's stupidly delicious. What else can anyone ask for?
Seriously, why are you still here?! Go book a table.
17 Tirza st.
Tel- Aviv
Have any questions? Suggestions? Just want to say hi? Leave a comment and I'll get back to you as soon as possible.