Winter has come and gone by.
Although I'm not quite sure I can call it that – one day of snow and a lone week of rain for an entire season don't exactly qualify as winter in my book.
Don't get me wrong though; I'm not complaining. Quite on the contrary, actually.
I'm not a winter kind of girl, never have been. In fact, as a child, I would manage to persuade my mom to let me stay at home instead of going to school when the weather was particularly gnarly.
That's how much I hated winter (and still do).
Unfortunately, since these days I'm considered an "adult," staying at home is not exactly an option.
Instead, I'm forced to try and keep myself warm with common survival tactics such as dressing up in copious amounts of layered clothing and walking everywhere connected to an IV drip of hot beverages.
And what's the most comforting hot beverage of them all?
Why it's hot chocolate, of course!
And what's the best way to indulge in hot chocolate?
Well, the way I see it, it's on a winter vacation (preferably somewhere in Europe).
So here are, without any further ado, 3 of the best options you can try out on your next vacation in foggy London. 😉
Winner of the "Over the top" category –
"Chin Chin Labs" hot chocolate:
This cup you'll want to share with someone or at least leave some extra room in your dessert stomach to accommodate it. The hot chocolate is made from 80% Valrhona dark chocolate in small batches and is reminiscent of the "Chocolat Chaud" you can find ever so often in French cafes. This is a rich, smooth, and thick (with triple "C") concoction, and in case you thought some sinfulness is missing: it's served with a mountain of torched handmade marshmallow fluff on top of it.
Now I'm going to ask of you for two things:
The first one- Avoid my mistake of ordering an additional dessert; the hot chocolate is more than enough to satisfy any of your sugar cravings, and to be quite blunt, it should probably be served with a side of an Insulin syringe. If anything, you should probably ask for a glass of water to go with it.
The second one- This particular drink requires careful maneuvering to ensure a relatively clean drinking experience (I mean, there is a reason as to why it's served with a saucer).
The marshmallow fluff is incredibly sweet, and the hot chocolate is semi-bitter, which means the perfect sip will be a combination of both. But here comes the tricky part: to do that, you'll need to dig a small canal through the marshmallow fluff in one of your cup's sides, and only then to proceed and take your sip.
Otherwise, you're just going to end up getting a face full of marshmallow fluff and no hot chocolate.
Boo-hoo 😭
So, what's the damage? 4.95£ plus being sugar high for the rest of the day.
Chin Chin Labs has three branches throughout the city that offer an interesting array of desserts and ice cream (made on location using liquid nitrogen). The ice cream flavors range between classics like chocolate and Tonka beans and more adventurous flavors such as Violets and Pandan (upon checking on their website, it seems that currently, the Soho branch has the most extensive selection to offer).
I tried their Sticky toffee pudding with the Burnt butter caramel ice cream, and it was pretty good ( 5.75£ ).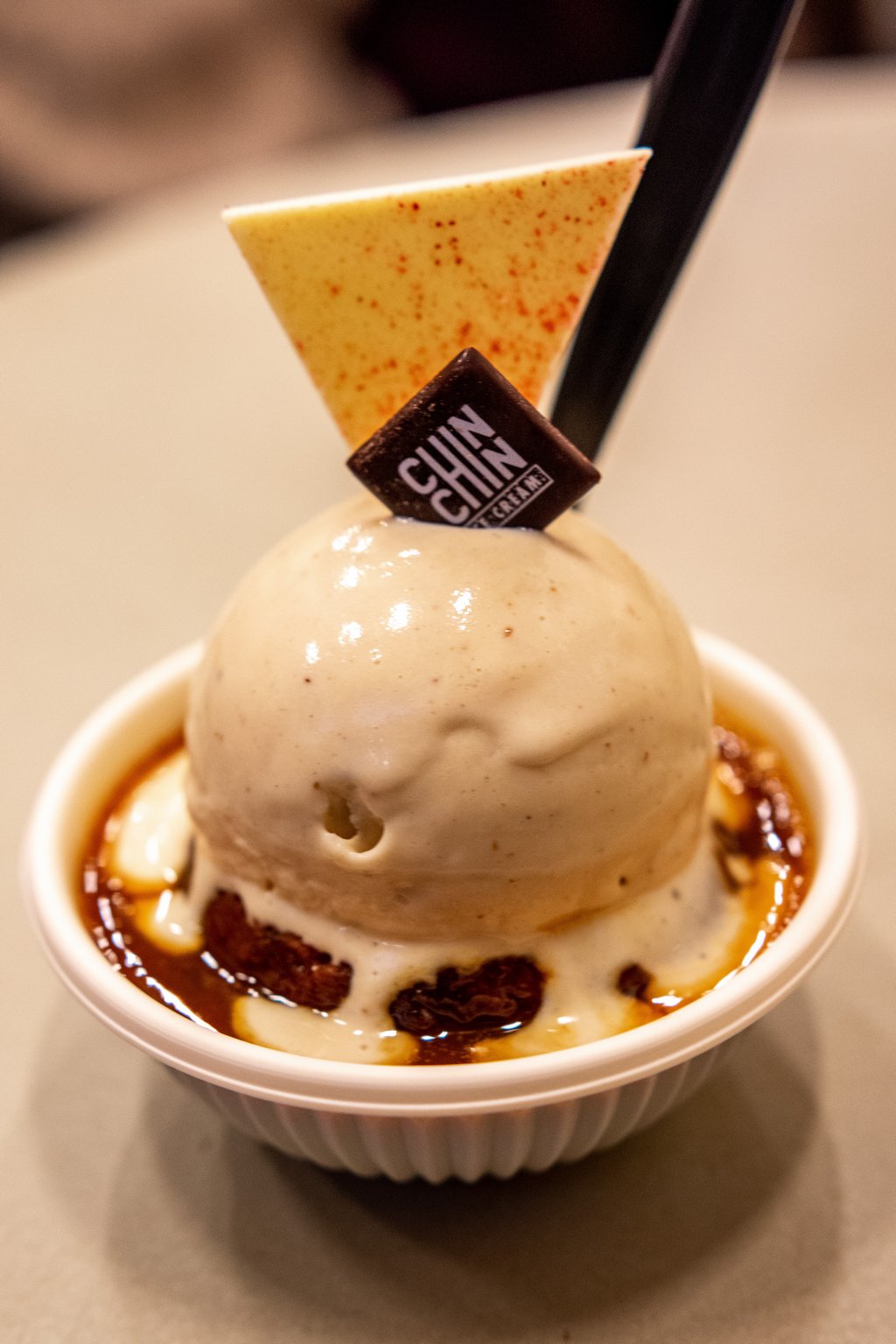 Winner of the "Magical" category-
"Warner Bros. Studio Tour London" "Chocolate Frog café" hot chocolate ( d*mn that's a mouthful, try saying that five times in a row):
True, it's not exactly London. Actually, it's a whole hour's drive away from it. But most chances are, if you're a Harry Potter fan or a cinema enthusiast visiting the city, you're going to end up paying a visit to the place anyway.
In this case, the emphasis is less on taste and more on the experience- I mean, did you ever watch the movies and wonder why can't you taste all of the goodies that you see on screen in real life? Well, now you kind of can. This magical cup (not really, but let's play pretend) is served with a heap of whipped cream, a cloud of golden fairy dust, and a chocolate frog to top it off (don't worry, this one has no chances of leaping off).
The beverage itself is not as rich as the first option and much thinner in its consistency, which means you'll have no problem sipping away at it on your own (Who wants to share anyway?! It's your magical moment! You should be able to enjoy it by yourself!).
The hot chocolate goes for 4.25£, and while the café offers a selection of other desserts for 3-4£, I didn't feel compelled to try them out and opted only for the hot cocoa, so I don't have an opinion on the subject matter.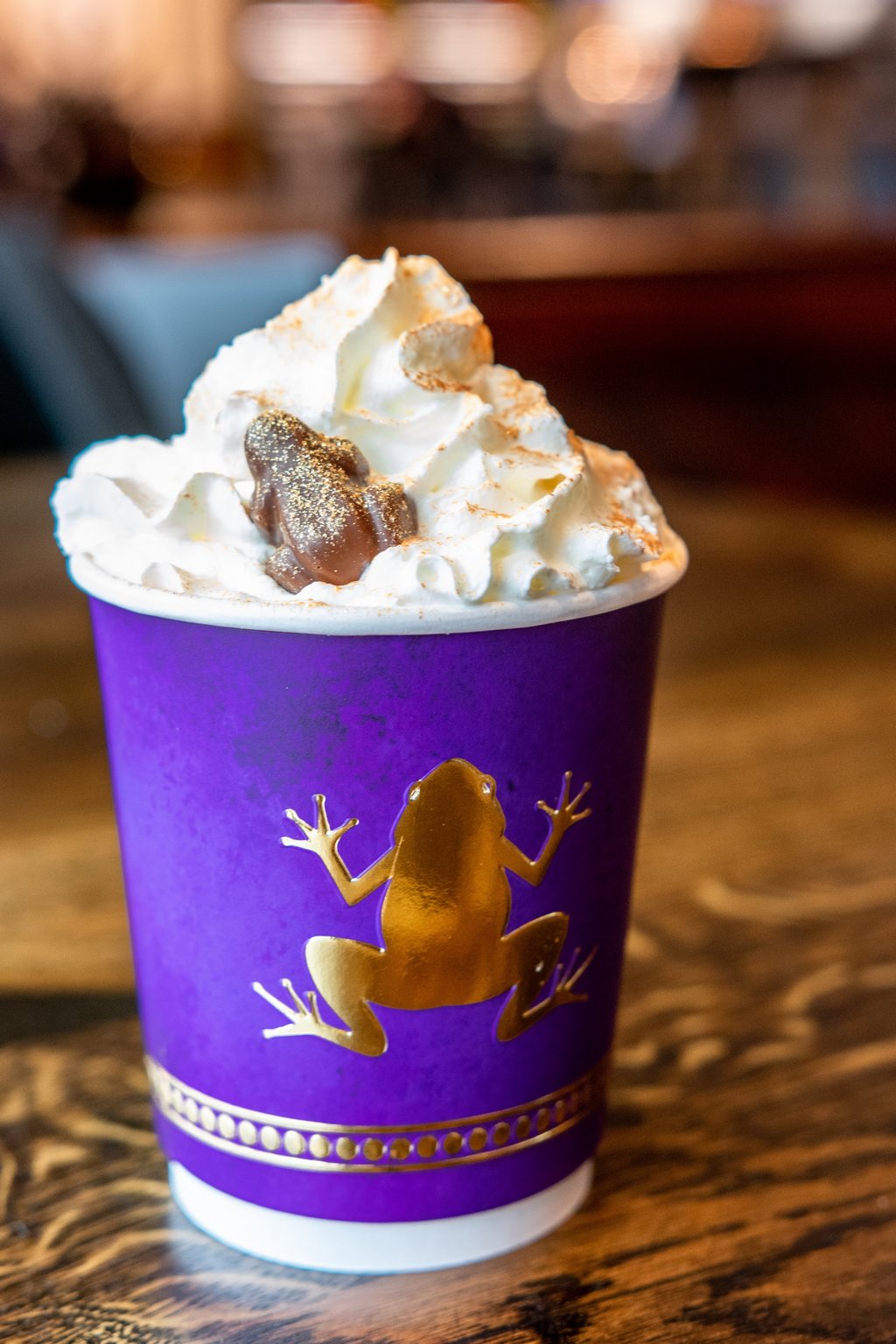 https://www.wbstudiotour.co.uk/food-drink/
Winner of the "Crowd's favorite" category ( as in me, myself, and I)-
Hotel Chocolate "hot chocolate":
The third option is what I call "refined decadence": this treat you'll be able to find at the "Hotel chocolate" chocolate factory chain of cafés, and I find it to be the most balanced option out of the trio.
The consistency of the hot beverage is just right- slightly thinner than the first option, yet still rich and thick without feeling too heavy.
There's even an extensive flavor range to choose from: Yours truly drink of choice was the Salted caramel+ clementine hot chocolate, topped with chocolate whipped cream and candied orange peel, but there's also good old Milk chocolate, Dark chocolate, Vanilla-White chocolate, and other flavors (some of which can be converted into the vegan option) for those of you with a more of a classic taste palette.
The price range is between 3.5-3.95£, depending on the size of the cup you want, making it the cheapest option out of the three.
Oh, and their cups are 100% compostable, like, what else can you ask for?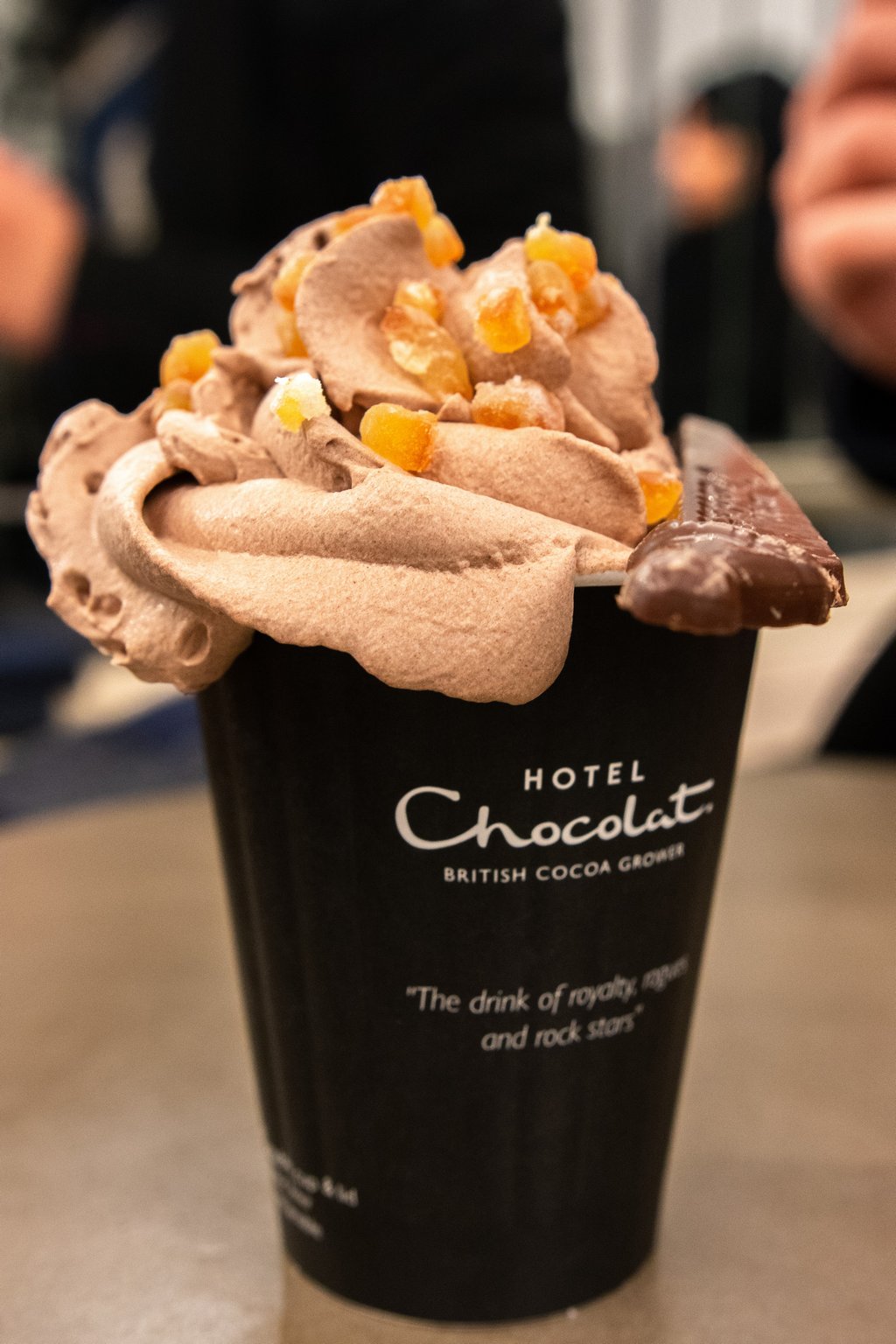 https://www.hotelchocolat.com/uk/chocolate-shops?dwcont=C332172691
Bonus-
"Whittard" boxed hot chocolate:
So, you want to bring some sweet goodness back home, but liquids aren't exactly airport-friendly?
Don't worry; I've got you. I have the perfect address for all of your sweet tooth needs:
I stumbled upon "Whittard" while searching for a good tea boutique ( which is a topic for another day) but what blew me away was their selection of canned hot chocolate.
The range of flavors is insane ( I counted 18 on their website while writing this post): you've got all the usual suspects like 70% cocoa, Milk chocolate, Mint flavored ( hey! it's someone's classic, just not mine), and then you have crazy flavors like Crème Brulee-white chocolate and Marzipan hot chocolate.
Can they get any more creative than this?
I've tried their Salted caramel flavored one, the Christmas spices one, and the "Dreamtime" one (chamomile flavored), and I can honestly say I enjoyed all of them.
The price range for a 250-350 grams tin is 8-10£, not exactly cheap, but it's a perfect souvenir for those of you, who like me, prefer them to be eatable and somewhat biodegradable.
Good luck making up your mind on which one you want to grab.
https://www.whittard.co.uk/stores
Happy springtime! 😊
If you have any questions, remarks, or if you feel like saying hi, please feel free to leave a comment, and I'll get back to you as soon as possible.