9 out of 10 times, when I'm planning a trip abroad, I will try to find places out of the beaten path to visit, and if they happen to be somewhat macabre or creepy by nature, then I know I hit the jackpot.
I'm not sure what fascinates me so much about those dark corners in human history and pop culture.
I'm not even much of a horror buff- the number of horror movies that I consider to be good can be counted on one hand. But on vacation? Give me tours filled with stories about ghosts and murderers, supposedly haunted places, quirky museums, and art exhibitions that would make the "Saw" movies look like the "Teletubbies" going on a day trip.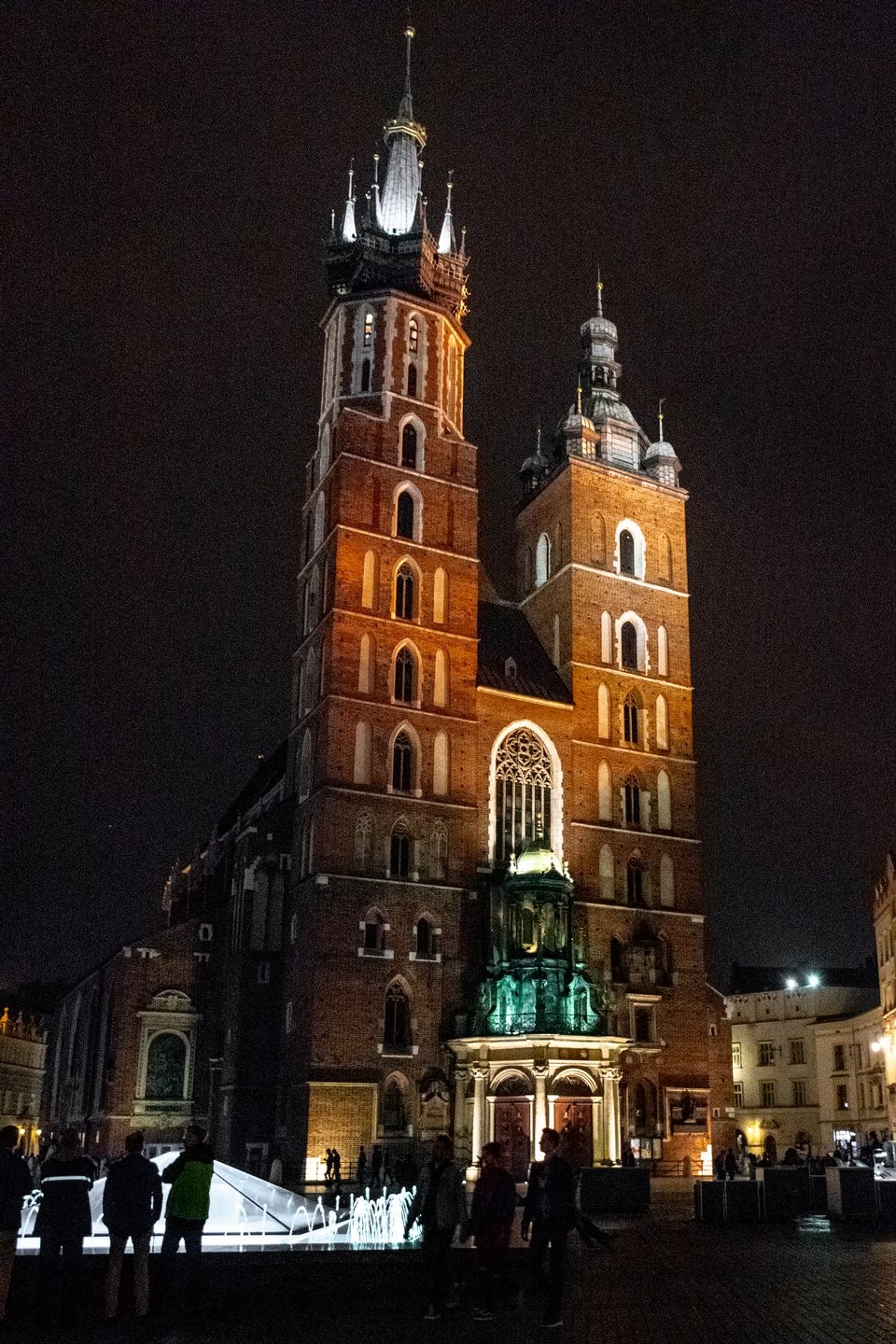 If you're like me, or maybe you just want to mix it up a bit, here are three wonderfully creepy addresses in Krakow*:
* Krakow is home to many holocaust sites, and it is a very dark and macabre subject indeed. Still, out of respect, I decided to avoid mentioning any of those in this post since it's centered around touristy attractions.
Zdzisław Beksiński (1929-2005) gallery in Krakow:
Somber music welcomes the viewers into the darkened gallery.
Inside, paintings hang on the black walls, lit by hidden light fixtures.
The art critics referred to these as dystopian surrealism, but to me, they seem more like the stuff nightmares are made of. Thin deformed humanoids that at times dissolve and merge into the background or other objects, empty crosses, and crumbling decaying cities are all images commonly used by the artist.
It's hard to stay indifferent to all of that: these paintings are not easy to digest and hard to look at, while on the other hand, there is something so captivating about them that it's hard to look away.
To this day, I'm not sure what I think of them. What I am certain of is that despite the sense of terror and sadness that the images on the canvas tend to convey, these, by all means, are beautiful masterpieces in terms of execution, complexity, and technique.
The way I see it, the ability of these paintings to draw you in into a parallel universe that, for some reason, looks like it took pointers from the "Silent Hill" movie franchise is a pretty unique feature.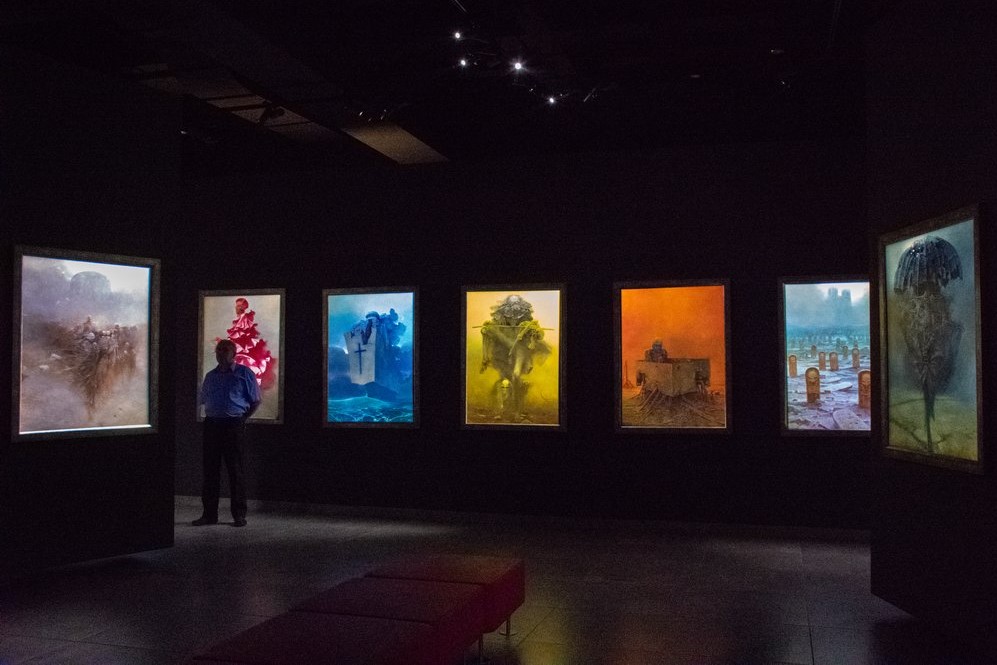 Beksinski is undoubtedly one of those artists that make those who encounter his paintings wonder what the hell was he thinking when he decided to let these images take shape on a canvas. But in vain.
Regardless of the different assumptions, claims, and declarations of art critics and gallery crowds,
Beksinski repeatedly stated in various interviews that he didn't plant any ideas, statements, or criticism inside his painting, at least in a way that he was aware of.
Beksinski didn't like giving commentary on his work, because more often than not, he himself didn't know what made him paint a specific detail the way he did. In fact, Beksinski even avoided naming his masterpieces to prevent discussion around the subject.
In one of the interviews, he claims that: "Others impose interpretation…paintings are to be admired or contemplated on. Like for example, a beautiful landscape or anything we admire without asking what it means…I have nothing to say. If I wanted to communicate anything, I would have used another media, not art".
That being said, the artist did admit that there might have been external influences from his life (such as his childhood in the shadows of World War II) that could have affected the way images are portrayed in his paintings. It's also important to mention that Beksinski himself thought some of his pieces to be quite optimistic and humorous in nature. However, it seems that most of the gallery crowds and critics had a hard time figuring out where it comes into play.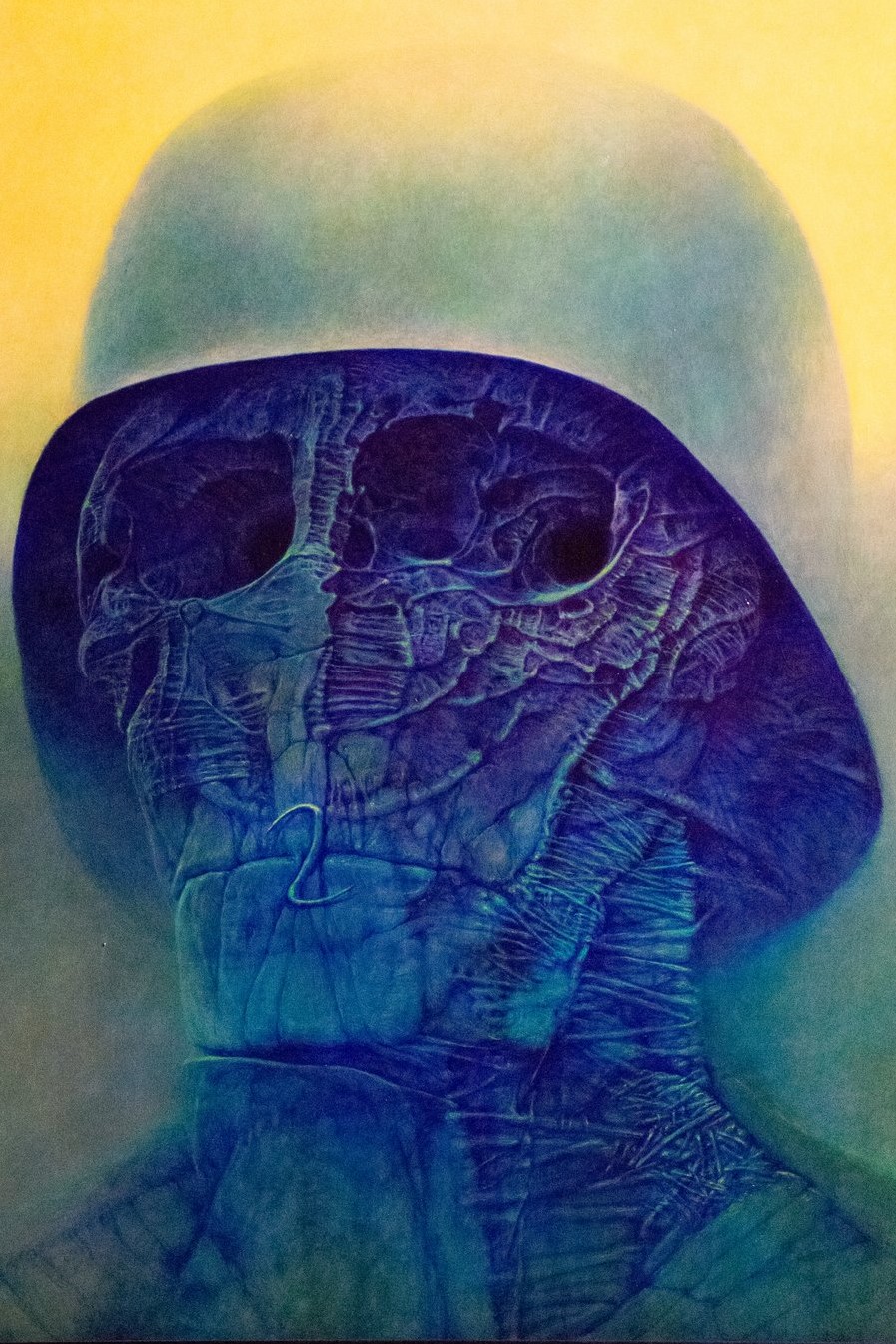 The exhibition itself was set up by Piotr and Anna Domochovsky (art dealers and the late artist's friends),
in October 2016, at the Nova Huta Cultural Center.
For the couple, who was looking for a permanent place to showcase the artist's body of work for a while now, it's a realization of a lifelong dream.
The exhibition consists of 250 art pieces from the couple's private collection, 50 of them ( the permanent exhibition) being oil paintings from the '80s, a decade considered the artist's most famous one. The temporary exhibition consists of 100 photographs from early on in the artist's career and 100 additional sketches.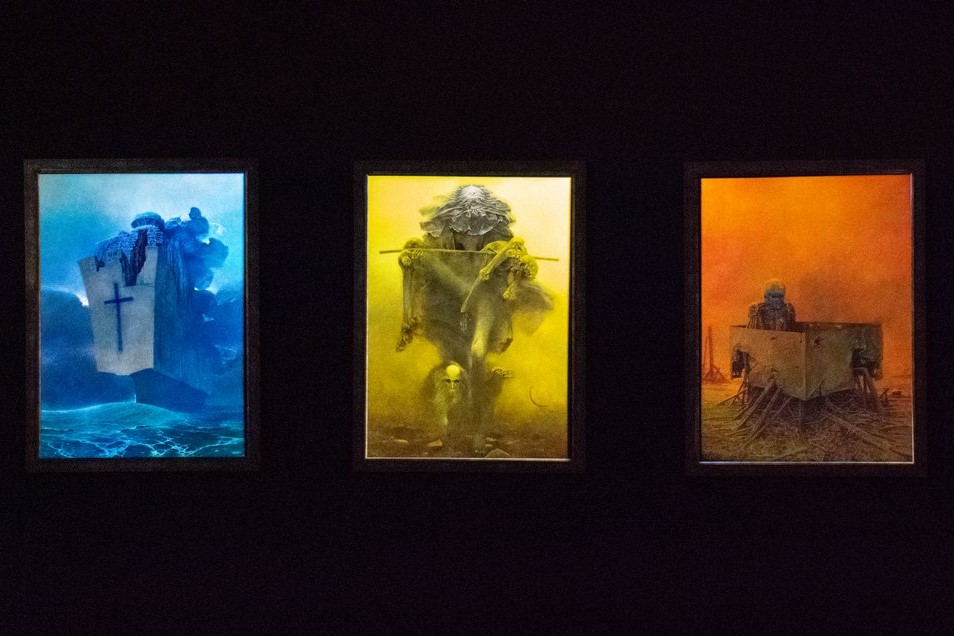 The exhibition is located outside of Krakow's main touristy areas, so you will need to use public transportation to get there. You can take tram No. 4 or 10, or bus No. 502 from the central train station.
Get off at the "Ronald Reagan square" stop and then continue on foot until you come across the Nova Huta Cultural Center, where the exhibition is located.
Tickets go for 10 PLN, which roughly translates to 2.5 USD.
Opening hours: Tuesday – Saturday 11:00-19:00 and Sundays 12:00-19:00
Address: 232 Jana Pawła II st. , Krakow
https://nck.krakow.pl/beksinski/godziny-otwarcia/
Museum of the Hangman:
A steep staircase leads us downwards into a space that somewhat reminds me of a wine cellar.
And although a glass of wine would have been a lovely addition to the guided tour we paid for at the entrance, it's not a cellar. To be exact, it's more of a dungeon.
Shadows crawl on the stone walls, and every bit of free space is crammed with something on display.
The floor, the walls, and even the ceiling are all packed with exhibits- approximately 100 torture devices that served the polish (and European) law to humiliate, interrogate and execute criminals and prisoners throughout history. Like I said – not a cellar.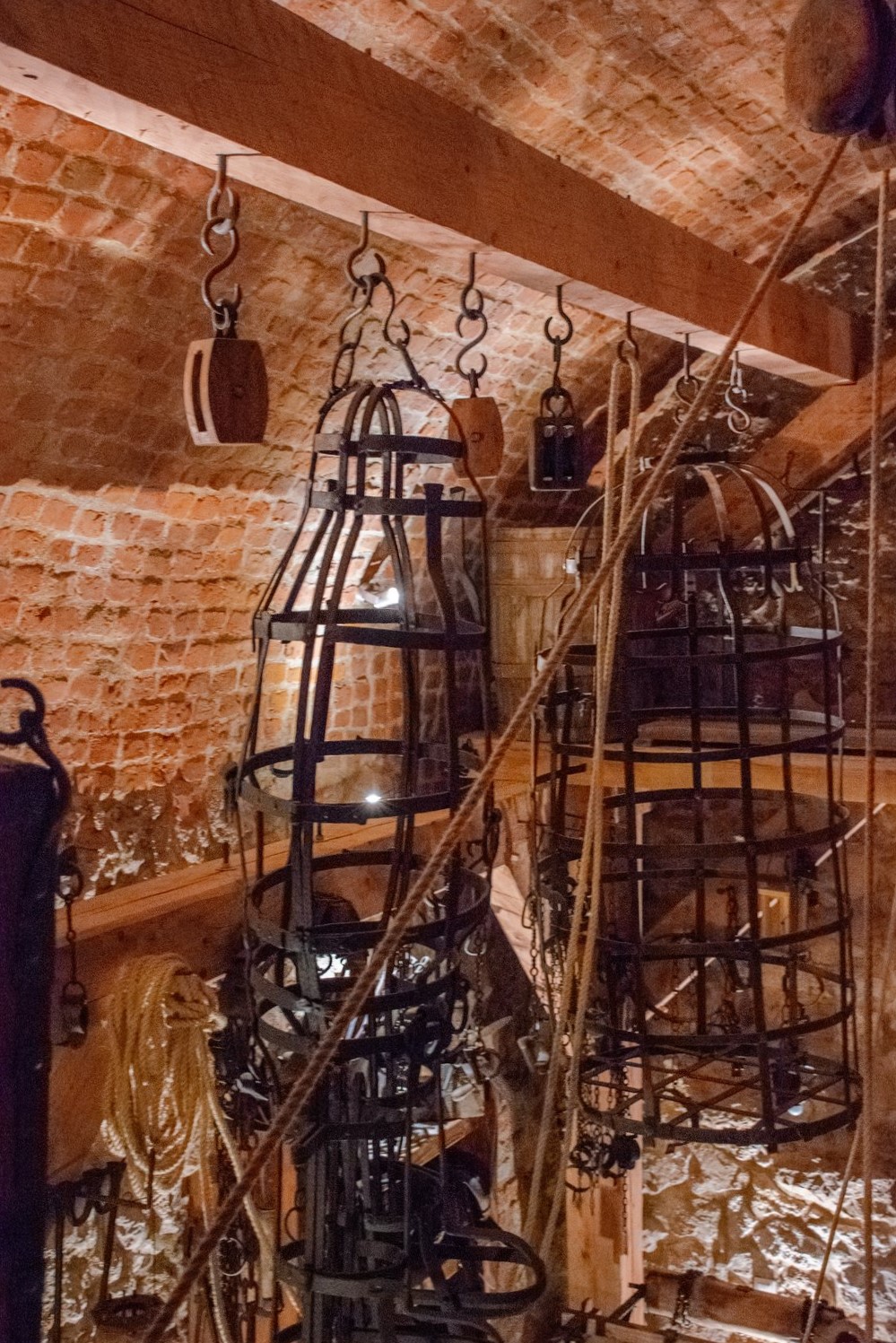 Amongst the "wonderful" devices that are showcased in the museum, you can find gems like the chastity belt
(classic!), Gibbets ( hung cages that were made intentionally too small for the victim's body), and let's not forget the masterpiece that is the Judas Cradle. This lovely contraption is a pyramid-like shaped device on which the unfortunate victim would have been seated on top of one of his orifices and then pulled down to create a human skewer.
If you thought that pyramids aren't suited for humans to sit on, the more "civilized" alternative is the Iron Chair- a chair covered with an attachment of iron plates and 500 to 1500 spikes for maximum comfort.
The chair worked in a way where the poor victim would have been tightly tied onto it; then, a fire would have been lit under it, which in turn caused the iron plates to heat up and roast the victim into a screaming frenzy. Researchers claim that in most cases, the chair was used as a psychological torture device rather than for actual torture since the mare thought of being seated in one would have extorted a confession even out of a silent monk.
Our tour was given to us in English with a heavy Polish accent by a very enthusiastic man who, from my impression, owned the place. The tour was very informative and included enlightening explanations about the various exhibits and how they were used ( in case you wanted to try your hand at it 😉).
On their website, it says that the guided tour goes for 50 PLN ( approximately 12.6 USD), but for some reason, that's the amount we paid for two.
I strongly recommend taking this option since there are no explanatory labels or flyers you can read to understand what's in front of you. In other words, aside from the tour, there is no way of gaining a historical background or even a general understanding of the exhibits.
Personally, if there is something that turns me off about museums, it's not being able to understand what I am looking at. A regular ticket goes for 15 PLN ( approximately 4 USD). For your consideration.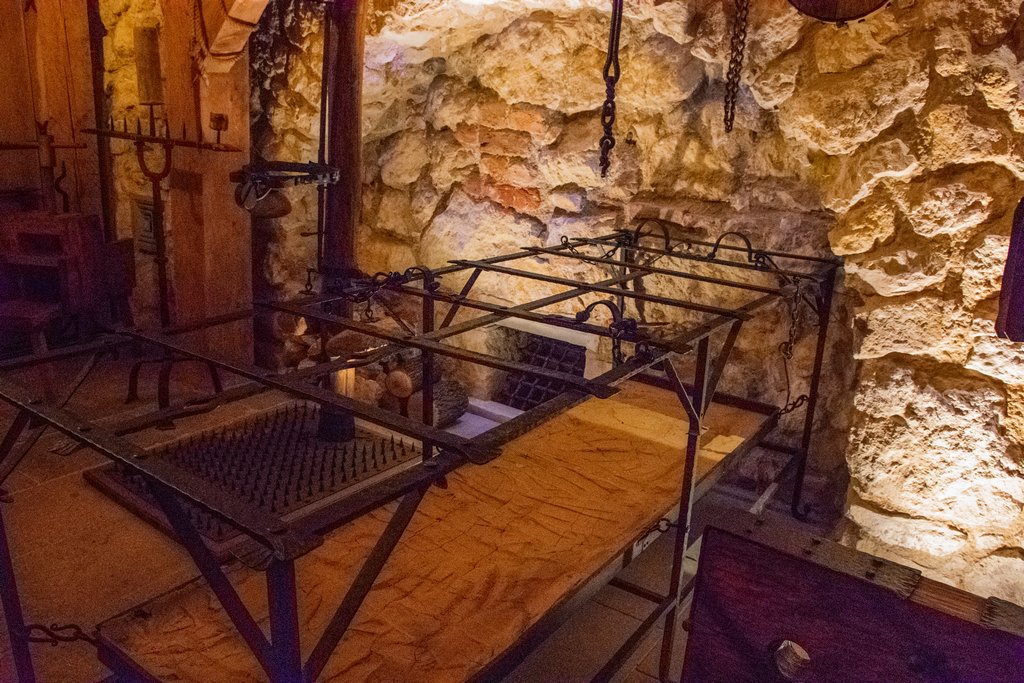 Pro tip – When we decided to spontaneously pop in for a visit during opening hours, the place was closed for some reason. We decided to phone in and were told to come back in an hour. We came back, but you might have other plans on your schedule, so it's worth calling in beforehand.
Opening hours: Sunday- Saturday 10:00-19:00
Address: 29 Market Square, Krakow
http://kacianora.com.pl/kontakt.php?lan=en
Macabre Krakow tour:
This is a fun (and a bit creepy) nighttime tour of about an hour and a half around Krakow's Old Town neighborhood, during which your guide will tell you all about the dark secrets that are hiding behind the beautiful house fronts you will pass on by as you go.
The stories told range between your average ghost story/urban legend and fact-based historical information. Amongst these, you will find stories like Estherka's Jewish ghost and her ties to the Polish monarchy and the tale of the vampire that spread terror over the city in the '60s. Additionally, you will also get some practical guidelines for the executioner's profession and his role in its town's community (for those of you who are looking for new career ideas).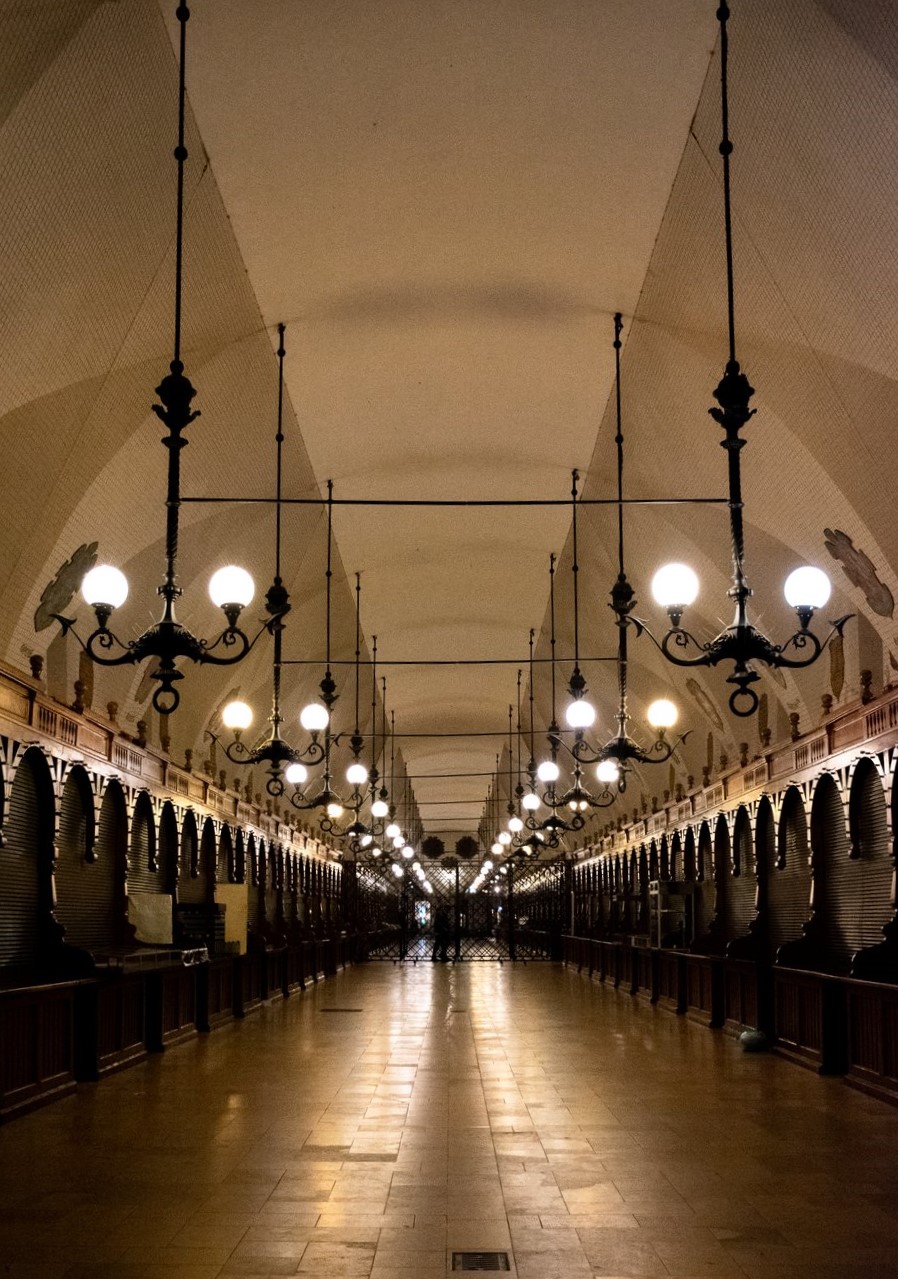 The tour is free ( though it is customary to leave a tip for the guide), and you do need to sign up in advance on their website. As of writing this post, the tours are available on Mondays, Fridays, and Saturdays at 8:00 PM. The meetup point is between the St. Florian Gate and the Barbican. You will recognize your guide by the yellow umbrella they will be carrying.
Pro tip: Our guide warned us that he tends to speak a bit too fast and asked us to tell him if it's bothering us.
If that's the case for you as well, and you feel like your guide is speaking at 180 km/min, please feel free to tell him so. This experience is tailored towards you, and there is no reason for you not to enjoy it.
https://freewalkingtour.com/krakow/
I hope that I have been able to expand your knowledge of Krakow and that you'll be able to use this post to plan your next trip to this beautiful city.
Have a question? Suggestion? Just want to say hi?
Please leave a comment, and I'll try to get back to you as soon as possible. 😊