I loved sweets ever since I can remember myself.
Some kids are into the salty type of snacks, kids in love with cheese puffs, kids that would kill for some potato chips, but that wasn't me. I, for that matter, would have sold my soul to the devil for some sweets.
Yes, sweets were my king. Whether it was that time when I convinced my mom to add lemon pudding to my omelet because I thought it was a genius idea ( it turned out disgusting, I was 3), or Whether it was that time when I finished a whole family-size pack of snickers mini, and decided to shove the wrappings into the cracks between the sofa cushions, so that my mom wouldn't find out about it ( the 10-year-old criminal mastermind that I was), I was always somehow drawn to that flavor and would try to put my hand on the closest confection in a 10-meter radius.
All things considered, it is no surprise that these days, every time I fly abroad, I try and look for the finest out of what the city that I'm visiting can offer.
While in Kiev, looking for the next sugar rush, I stumbled upon these jewels:
Éclair Little Artwork –
Undoubtfully a place that is fun to come back to. The whole coffee shop is dedicated to one thing, and one thing only- the Éclair.
Since the prices are quite accessible (around 2.5 USD each), I suggest you make some room in your schedule and your dessert stomach and go to town on those eclairs. Try as many as you'd like!
Out of the ones that I tried, most of the flavors turned out to be well-balanced and flavored.
Some of the flavors were quite original even, like the sea buckthorn one, which was delightful.
Among other flavors that I liked were the lavender one, the pear- caramel, and the apricot.
Surprisingly, an éclair I wouldn't recommend on (and a very lonely one at that) is the vanilla one topped with gummy candies, that for some reason felt a bit hard and not exactly fun to chew on.
Another personal recommendation would be to avoid the coffee with orange juice, a trend that I couldn't figure out. For the life of me, I have no idea how it became this popular locally. As far as I'm concerned it's not a good combo, and my taste buds are pretty much open to unusual flavors.
On the other hand, as I mentioned before, the eclairs are really to die for.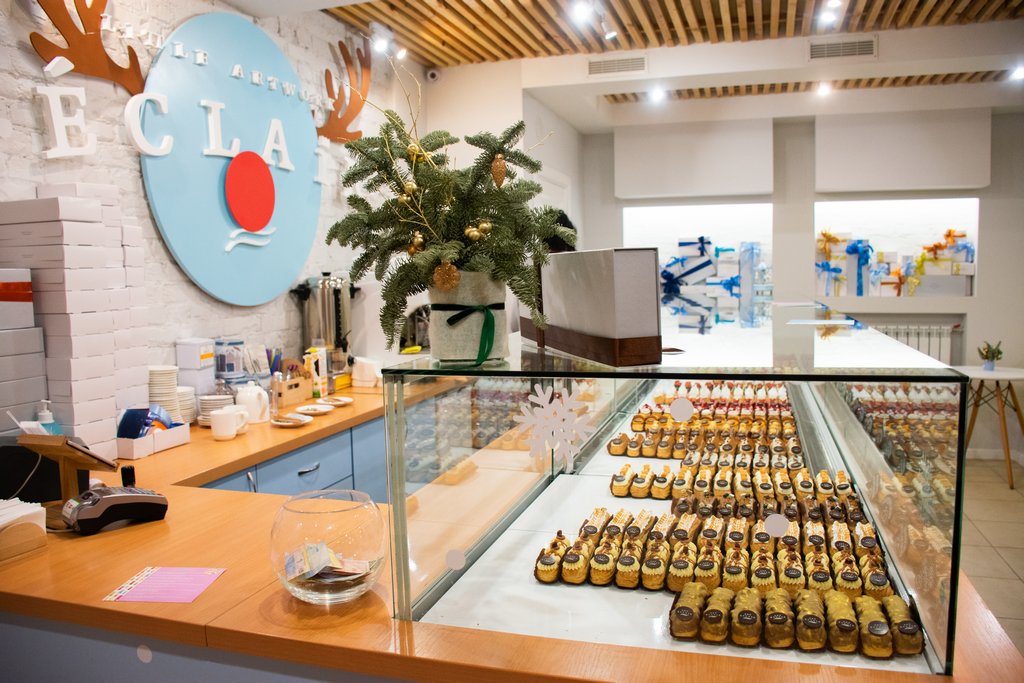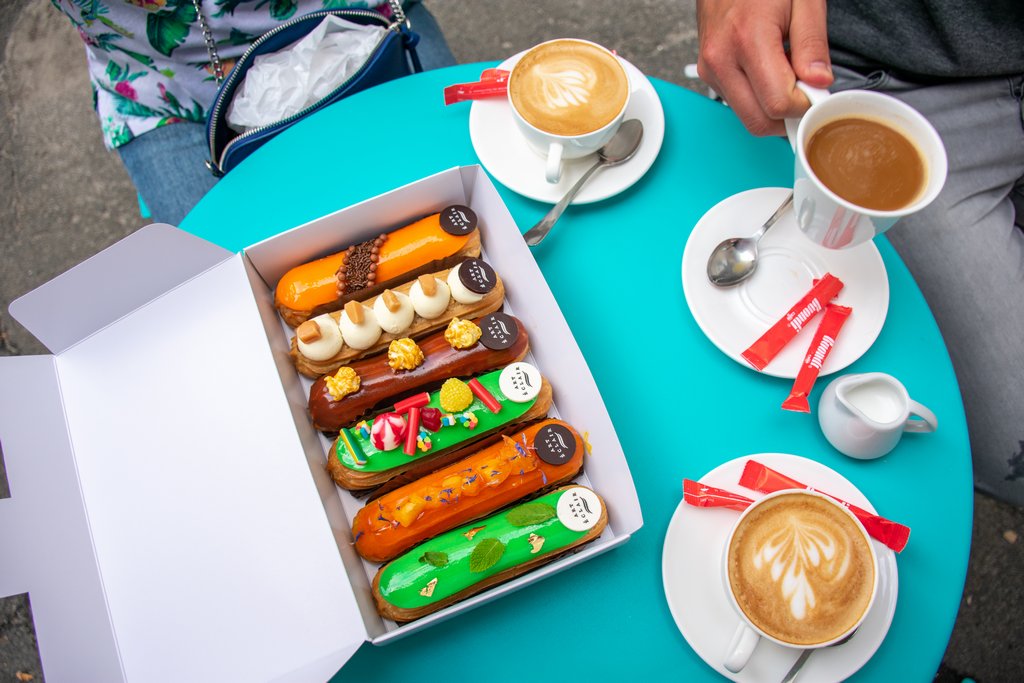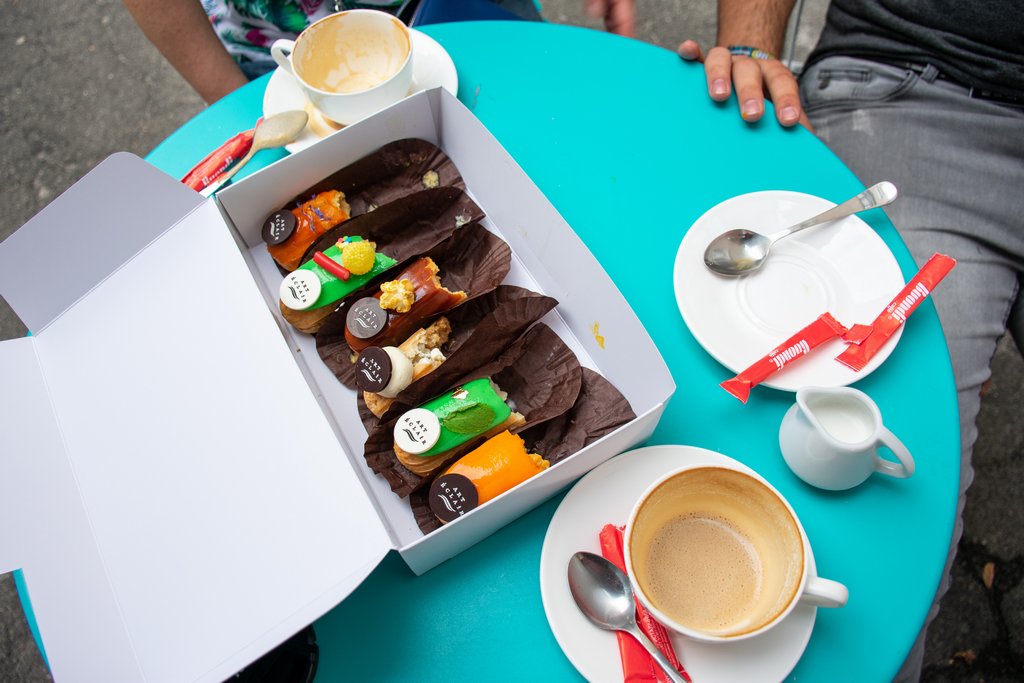 Address: 6 Kostolna st. , Kiev
Opening hours: Monday -Thursday 9:00-21:00 , Friday 9:00-22:00 and Saturday -Sunday 10:00-21:00.
Honey. Cafe-confectionary –
This one is located inside the "TSUM" luxury department store on Khreschatyk Main Street ( there are two other branches – one in the Podil neighborhood and one in the area of the "Sophia of Kiev" national conservation area).
The place offers a wide variety of Individually sized pastry cakes (some of them even gluten-free), macarons, and chocolate. Out of the cakes that I had the pleasure of trying, I recommend the plum cake with accents of marzipan and Jack Daniel's whiskey ( the purple pebble in the photos), the raspberry-lychee-white chocolate one (heart-shaped), and the chocolate cherry cake covered with cheesecake mousse ( the bleeding cake).
On the other hand, there's the lavender mousse cake, that although being branded as such, had no trace of lavender in it. Some cakes just seem to better than others, but that's ok, because I tasted 6 cakes and only one of them turned out to be disappointing, so I think that's a good ratio.
Out of the macarons I recommend the lemon-mint one and lavender one (yes, contrary to the cake).
The prices range between 4-6 USD per cake and around 1.5 USD per macaron.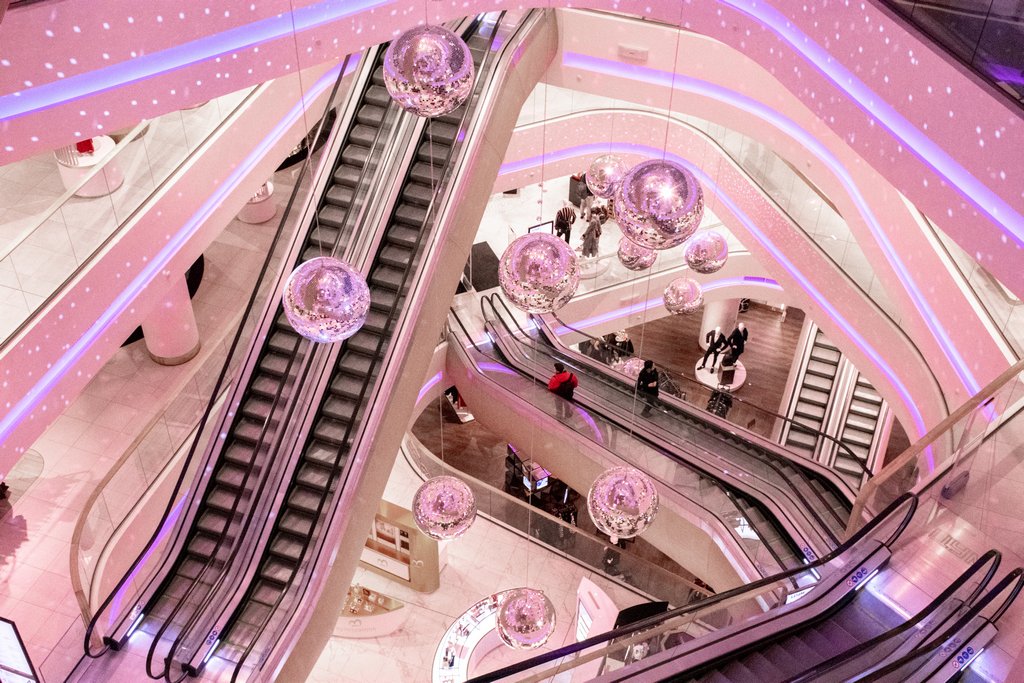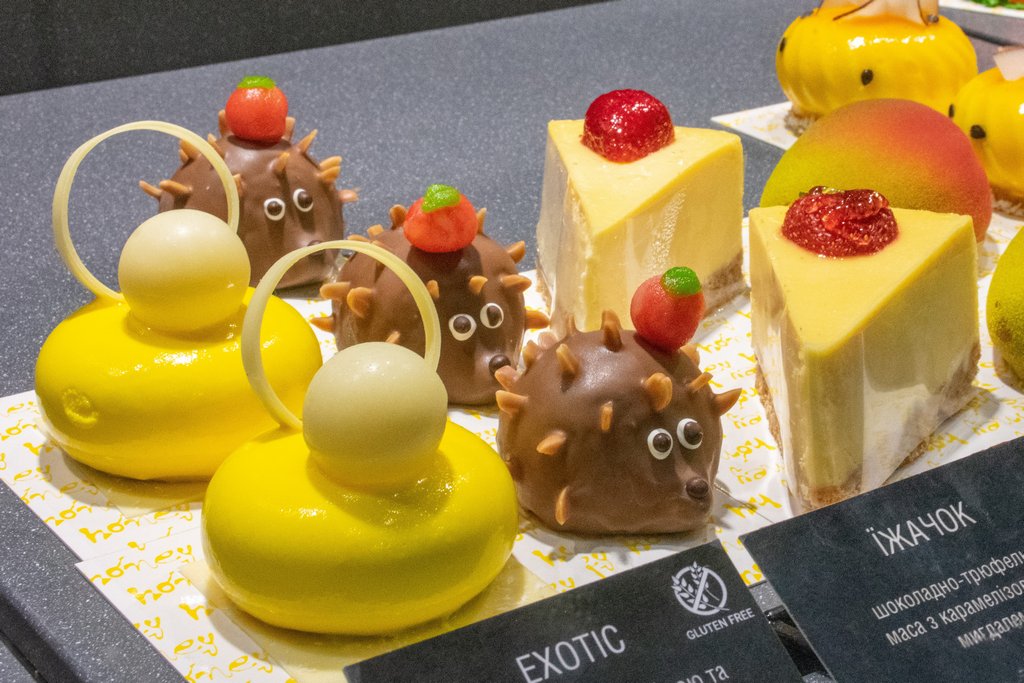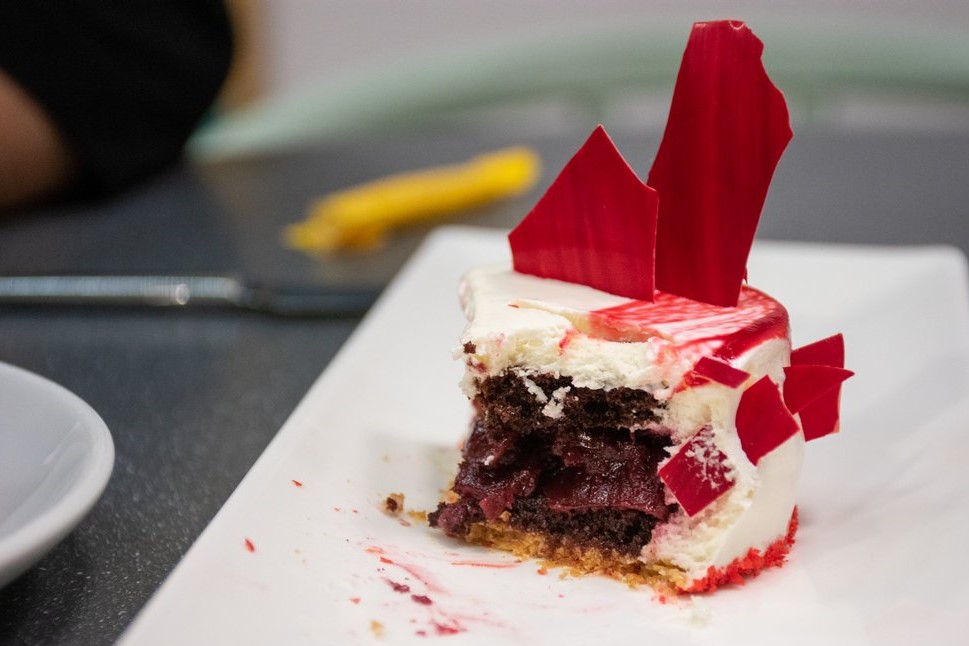 Address: 2 Bohdana Khmel'nyts'koho St. Kiev
Opening hours: Monday- Sunday 10:00-22:00
Madame Josy –
Last but definitely not least on the list, is this small coffee shop, which aside from having an awesome patisserie section is also serving the cutest types of breakfast ( such as Croque madame and croissant sandwiches).
I tried two of their dessert during my visit there and they were truly divine. The first one was a great interpretation on "Tart Tatin"- light and fluffy, sitting on its puff pastry throne, was an apple and cinnamon cube. The other dessert was a white chocolate-covered violet mousse dome with a berry confiture center.
Both of the desserts were my highlight of the day. It's hard to believe that each of them costs around 4 USD.
Talk about getting your money's worth.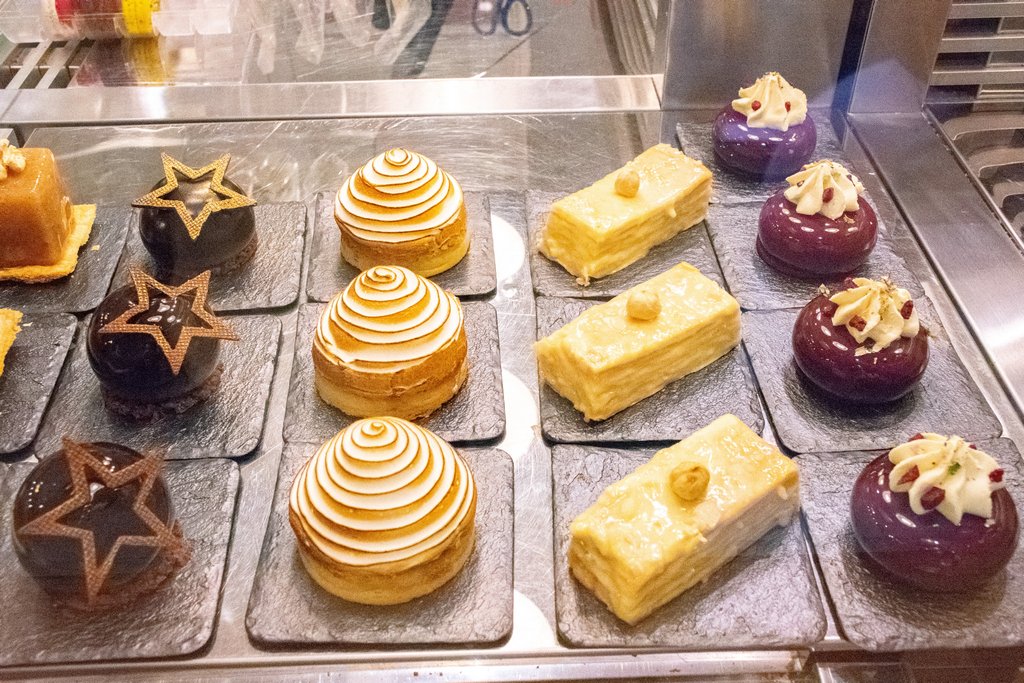 Address: 4a Borysa Hrinchenka St. Kiev
Opening hours: Monday – Friday 08:00-22:00 , Saturday – Sunday 09:00-22:00
Bon Appetit 😊